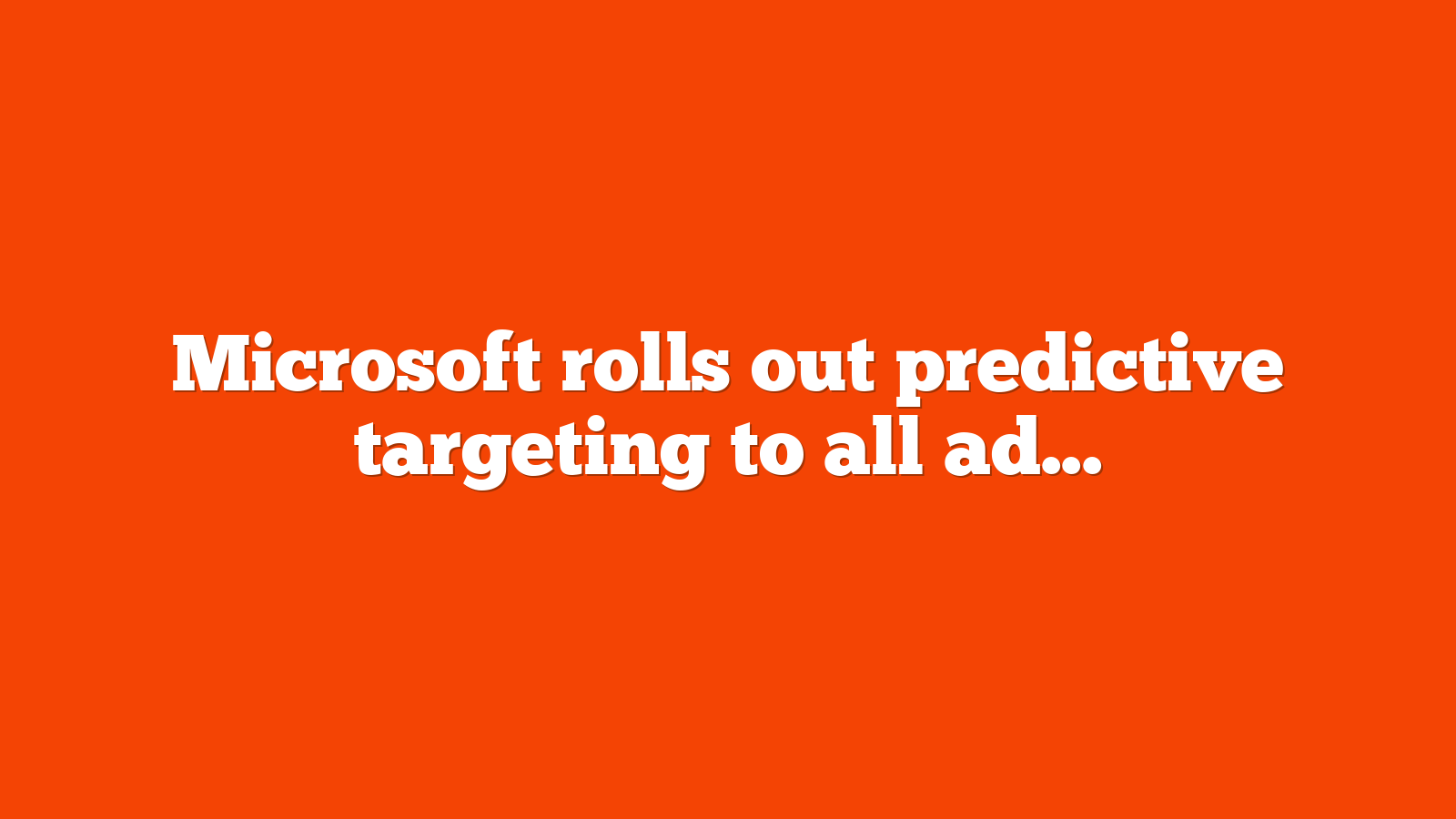 Microsoft rolls out predictive targeting to all advertisers
The Microsoft Audience Network has moved predictive targeting to general availability.
Following a successful pilot, all advertisers will now be able to use the feature in their campaigns.
Why we care: Predictive targeting can help advertisers easily find new audiences that they may not have previously considered targeting. Not only are the identified audience relevant, but they are viewed by bots are more likely to convert, which could result in a higher ROI for marketers.
Successful trial. Microsoft has been trialing this tool for 10 months and said that some marketers, such as Sembot, have reported as much as a 1550% increase on ad spend, while other businesses, such as Trivago, have seen conversion rates rise by 20%.
How it works. Microsoft bots examine ads along with the landing pages associated with them, before using its audience intelligence signals to match that content with relevant audiences. The bots have been designed to help marketers deliver the right message at the right time to drive better performance.
How to set it up. In order to integrate predictive targeting into your marketing campaign, you need to toggle on an ad group setting in the audience campaigns. You can do this in two different ways:
Option A: When setting up an audience campaign, predictive targeting will now be the default targeting option. If you want to use predictive targeting, simply leave the settings as they are.
Option B: If you want to expand your reach beyond targeted audiences for your campaign, you can choose to apply a marketing list or an in-market audience. To do this, simply toggle on predictive targeting and the Microsoft bot will serve to your targeted audience while simultaneously using predictive targeting to find users outside of that audience who are still relevant.
Is it the same as optimized targeting? It is similar in the sense that this tool can help marketers reach their ideal audience with little to no input. However, this tool was designed specifically to assist marketers using the Microsoft Audience Network using a combination of existing advertiser assets and Microsoft Audience Intelligence.
Microsoft shares best practices. The tech giant has identified best practices to help marketers achieve the best results:
Microsoft bases its decisions and algorithms on ad content and landing page.

Use clear and descriptive ad copy.
Make sure your landing page provides a good user experience.
Use predictive targeting in combination with automated bidding across all campaigns.

"In terms of automated bidding strategies, we have a pilot target for CPA and maximum target conversion which are launching in the summertime. So the recommendation for now is to use it with enhanced CPC," according to Microsoft.
Apply predictive targeting to all of your campaigns to see how it performs.

"You'll also have a reporting line item in the campaigns grid and the audiences tab – that will show you exactly what predictive targeting is delivering for your campaigns.
"Don't just set audience targeting and forget about it. Report, review and adjust as necessary, keeping an eye on budgets and making sure you're staying competitive," Microsoft said.
Deeper dive: For more information on Microsoft's predictive targeting feature, read its complete guide here.
The post Microsoft rolls out predictive targeting to all advertisers appeared first on Search Engine Land.
from Search Engine Land https://searchengineland.com/microsoft-predictive-targeting-all-advertisers-428467
via free Seo Tools