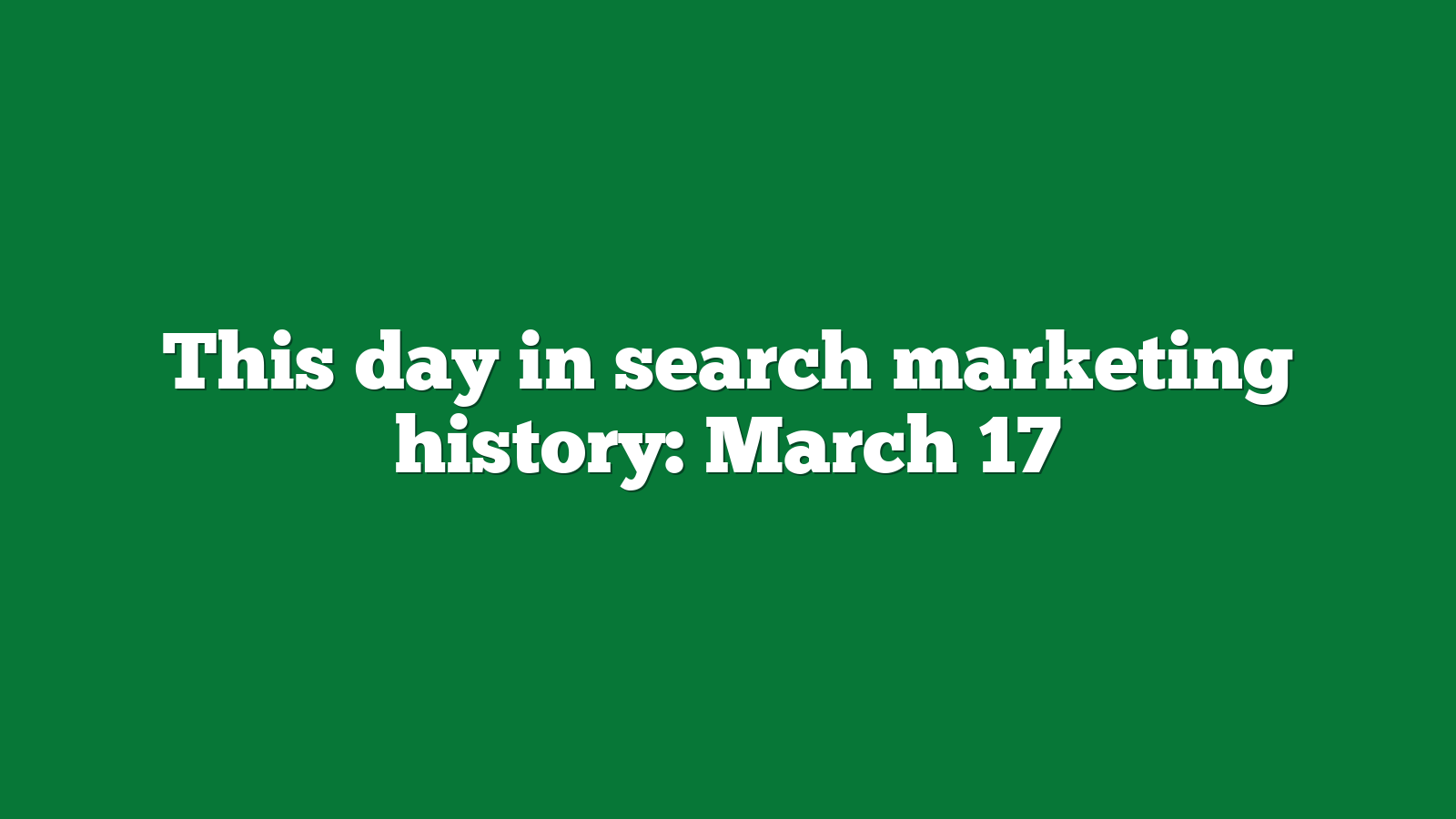 This day in search marketing history: March 17
2021: The report listed misinformation around COVID-19 and the political climate, as well as ad fraud, as top concerns.
---
2020: "SpecialAnnouncement" and "eventAttendanceMode" could help businesses provide event updates in the search results.
---
2020: Study compared rankings for the same queries across six Bing-powered search sites, including Bing itself.
---
2020: The company had halted shipments of non-essential items to its warehouses and stopped most of its ads on Google. 
---
2017: Not just for plurals anymore, close variants would extend to include word ordering and function words in inexact match keywords.
---
2017: Police in Minnesota obtained a court order requiring Google to divulge the identities of people who searched for the name or images of the local victim of financial fraud.
---
2017: The closure marked the final end of a chapter of humans trying to organize the web.
---
2017: The latest images showing what people eat at the search engine companies, how they play, who they meet, where they speak, what toys they have and more.
---
2015: Google said webmasters should implement autocomplete markup to improve mobile user conversions but didn't say it would be a ranking factor.
---
2015: Google's Zineb Ait Bahajji said the mobile-friendly algorithm would impact more sites than the Panda or Penguin algorithms.
---
2015: Google updated the Top Movers report with a summary to make it easier to spot areas for improvement.
---
2015: Google Feud adapted the popular game show, Family Feud, by using Google autocomplete suggestions.
---
2014: Cutts did not say this was or would be a ranking factor. He said that he would like to see it become a ranking factor.
---
2014: Google's Matt Cutts said he "wouldn't be surprised" if mobile search exceeded desktop queries by the end of the year.
---
2014: Google continued to experiment with Google Shopping displays beyond the traditional thumbnail box panel of Product Listing Ads.
---
2014: Cutts answers: "What should sites do with pages for products that are no longer available?"
---
2014: Researchers claimed the problem revolved around Google's constantly updated algorithms and the inability of big data to produce, "Valid and reliable data amenable for scientific analysis."
---
2014: Bing Ads updated the Search Term Report (formerly known as the Search Query Report), which housed the data on the terms users actually typed before clicking on an ad.
---
2012: The data was tricky to get to and the specifics of what was available varied based on how you retrieved it. 
---
2011: Was Google readying several new "connect an account" options in Google Profiles?
---
2011: The company estimated that its helping pages load faster by a half a second or more, when, previously, Google acknowledged that its code could delay page loads by 12% on average.
---
2011: Video watching was down on YouTube during February, but it still held a seemingly unsurmountable lead in viewers, video views, and time spent per viewer.
---
2011: Of the 24% of Americans who got most of their political news from the Internet, 20% cited Yahoo as their main source of news. Google came in next at 13%.
---
2011: That was according to the Ethisphere Institute, which produced an annual list of "world's most ethical companies."
---
2011: Some Facebook developers were receiving emails from Facebook to remove the Google AdSense ads they had on their apps.
---
2010: "Google consistently tells the public to 'just trust us.' But based on my observations, I do not believe consumer privacy played any significant role in the release of Buzz."
---
2010: More details on Google's plans to gain a stronger foothold in people's living rooms.
---
2010: Microsoft's "WorldWide Telescope" was integrated into the Silverlight version of Bing Maps.
---
2010: You would see results of the people, events, groups and Pages you were connected to plus the connections of your friends and globally relevant results.
---
2009: Google's Matt Cutts answers "Is redirecting a large number of domains suspicious?"
---
2009: The Urbanspoon iPhone app had what looked like Google AdSense ads on them.
---
2009: Twitter was promoting Twitter Search.
---
2009: The very interesting history behind Hadoop – an open-source version of proprietary software developed by Google to process and analyze massive volumes of data for search.
---
2009: Woodside, a Googler for five years, was previously Google's Vice President for the UK, Ireland and Benelux.
---
2008: Yahoo's failure to recognize Google as a threat was partly responsible for the company's predicament.
---
2008: Yahoo and Click Forensics partnered to combat click fraud together.
---
2008: Features included product/service specific blogs, categorized user forums and more.
---
2008: The future looks bright for search, according to SEMPO's annual State of Search Engine Marketing report.
---
2008: Google's acquisition of DoubleClick closed at $3.24 billion, a mere $140 million more. 
---
---
From Search Marketing Expo (SMX)
---
Past contributions from Search Engine Land's Subject Matter Experts (SMEs)
These columns are a snapshot in time and have not been updated since publishing, unless noted. Opinions expressed in these articles are those of the author and not necessarily Search Engine Land.
---
< March 16 | Search Marketing History | March 18 >
The post This day in search marketing history: March 17 appeared first on Search Engine Land.
from Search Engine Land https://searchengineland.com/search-marketing-history-march-17-394379
via free Seo Tools