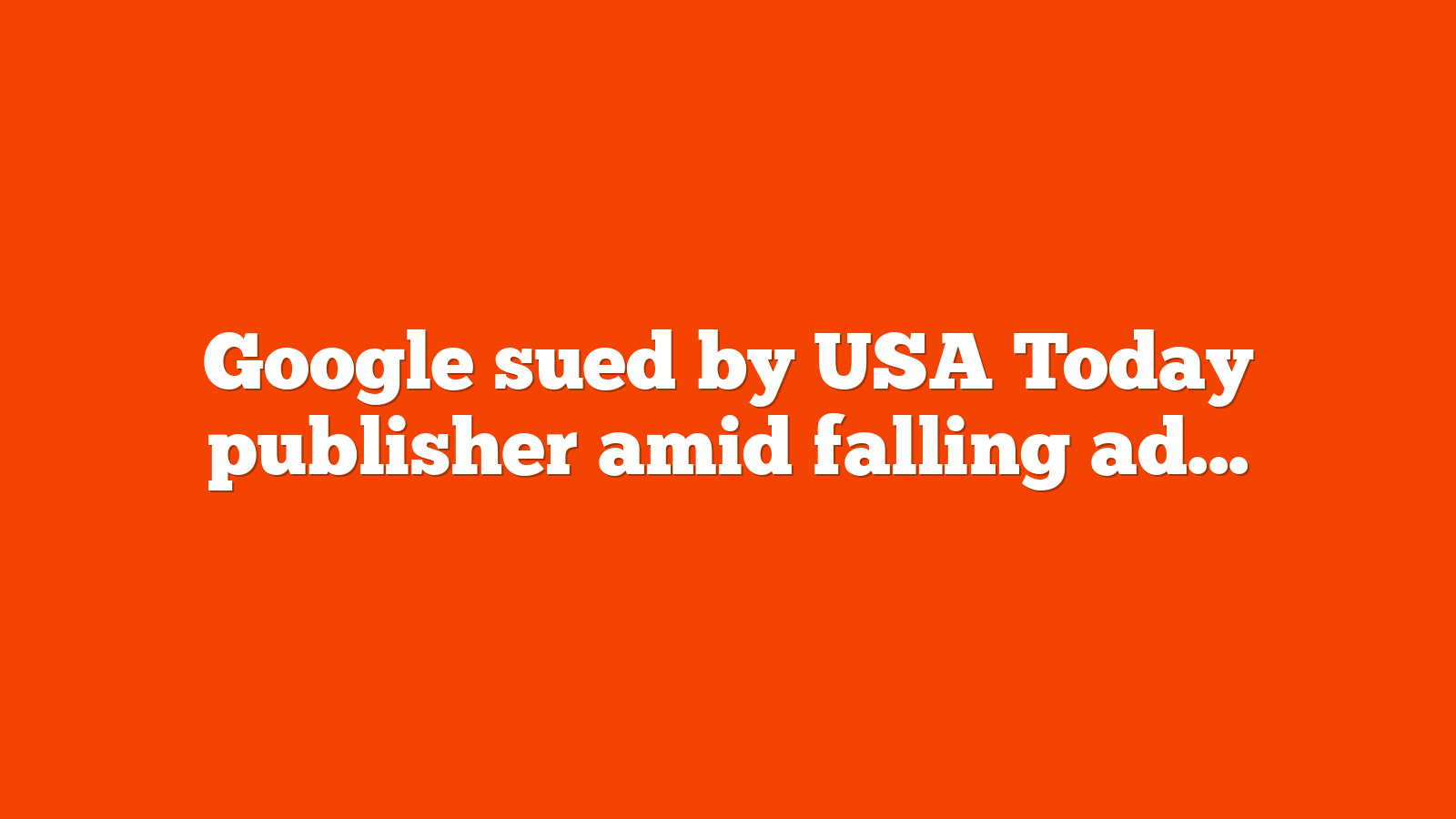 Google sued by USA Today publisher amid falling ad revenue fears
Google has been accused of unfairly monopolizing the digital advertising market resulting in a significant drop in advertising revenue for publishers.
Gannett, the publisher of USA Today, is suing the search engine for using "deceptive commercial practices" and breaching U.S. antitrust and consumer protection laws.
Why we care: This is the latest in a string of lawsuits in which Google has been accused of violating antitrust laws. The outcome of these cases could force the search engine to implement big changes such as the divestment of its ad business, which could potentially lead to increased transparency, more campaign control for advertisers and better innovation – which could also possibly mean the creation of new ad tools.
What's happening? Gannett filed a federal lawsuit against Google in New York today. In a statement, the company said:
"Google controls 90% of the market for publisher ad servers, which publishers use to offer ad space for sale. Google also controls over 60% of the market for ad exchanges, which run auctions among advertisers bidding for ad space on publishers' websites."
Publishers rely heavily on digital ad revenue in order to survive – and Gannett is the largest newspaper publisher in the U.S.
---
Get the daily newsletter search marketers rely on.
---
What has Gannett said? Gannett's CEO Mike Reed released a statement explaining the impact Google's alleged illegal practices have been having on news publishers:
"News publishers depend on digital ad revenue to provide timely, cutting-edge reporting and essential content communities rely on, yet Google's practices have had negative implications that depress not only revenue, but also force the reduction and footprint of local news. Without free and fair competition for digital ad space, publishers cannot invest in their newsrooms."
What has Google said? Dan Taylor, vice president of Google Ads, has denied the allegations.
"These claims are simply wrong. Publishers have many options to choose from when it comes to using advertising technology to monetize – in fact, Gannett uses dozens of competing ad services, including Google Ad Manager. And when publishers choose to use Google tools, they keep the vast majority of revenue. We'll show the court how our advertising products benefit publishers and help them fund their content online"
Has this happened before? Google was charged with violating the European Union's antitrust laws just last week.  After a two-year investigation, the European Commission said that "mandatory divestment" is the only way the search engine can look to resolve the issue as behavioral changes would not be effective.
Earlier this year, nine U.S. states (Michigan, Nebraska, Arizona, Illinois, Minnesota, New Hampshire, North Carolina, Washington, and West Virginia), also joined forces to bring a similar lawsuit against Google.
The states claimed that the search engine's ad business violated antitrust regulations. To rectify the matter, they urged Google to break up its Ad Manager suite, suggesting it was exploiting its online advertising dominance. Google denied the claims and asked for the case to be dismissed.
In 2020, Google was also accused of breaching antitrust laws in order to maintain its position as the leading search engine. This case is set for trial in September.
But. We expect this to be a challenging year for digital advertising, with the slowest growth in recent memory. How much of that can be blamed on Google, as opposed to economic and other factors, is very much debatable.
Deeper dive: You can read Gannett's full statement here.
The post Google sued by USA Today publisher amid falling ad revenue fears appeared first on Search Engine Land.
from Search Engine Land https://searchengineland.com/google-sued-gannet-ad-spend-428411
via free Seo Tools