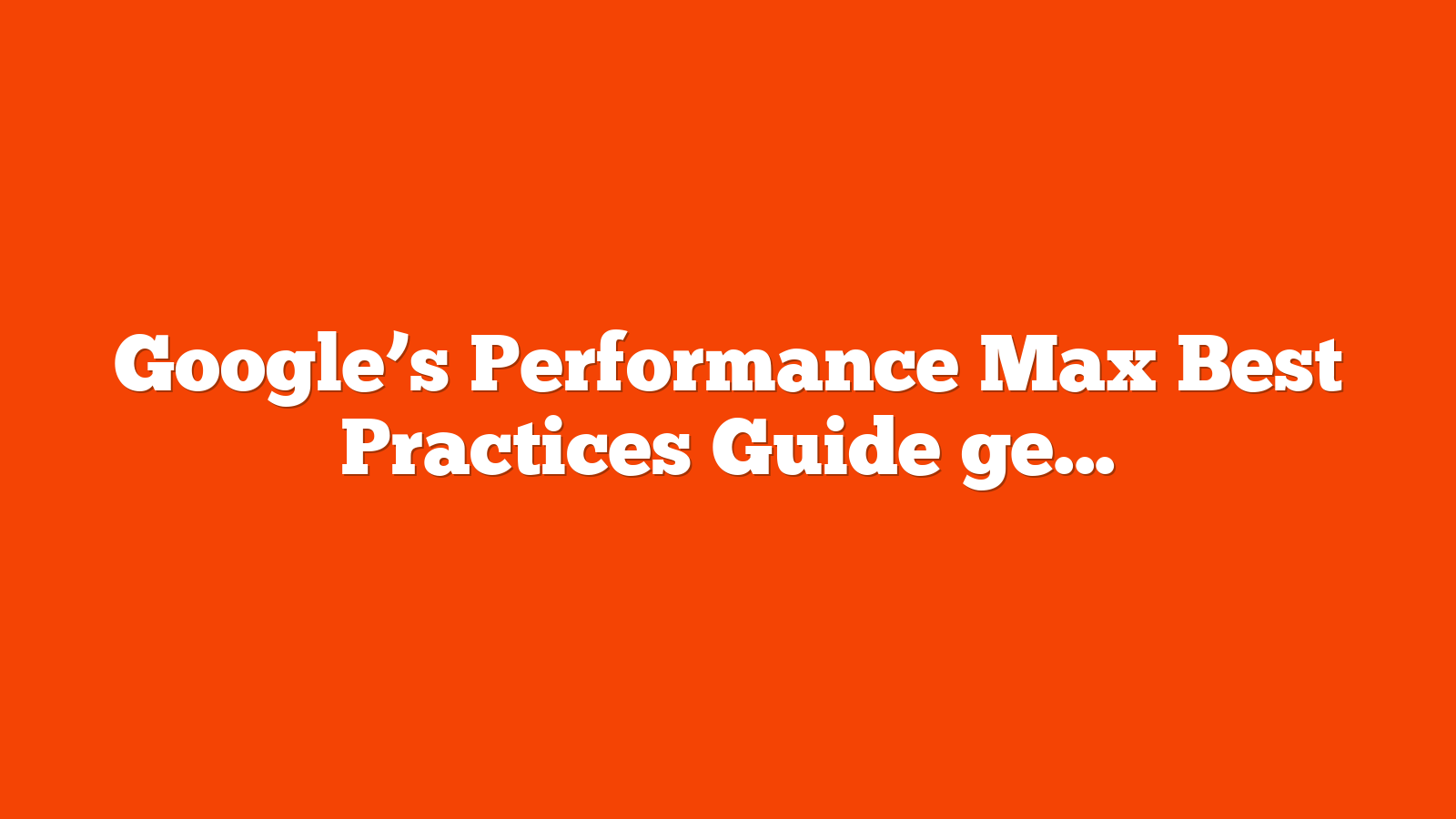 Google's Performance Max Best Practices Guide gets major update
Google has rolled out significant updates to its Performance Max Best Practice Guide.
The refreshed document now includes information on new strategies, advising retail marketers on how they can better optimize campaigns and improve conversions.
Why we care. If you don't keep up-to-date with the latest best practice guidelines from Google, the strategies you use to optimise your campaigns may be outdated and no longer effective, which could cost you in terms of reach, conversion and ROI.
What's new? The updated document details new tools and features that marketers can use to market their campaigns more effectively:
PMax benefits – The updated guide explains how switching from Standard Shopping campaigns to PMax can increase conversions.
A/B testing – The document advises running A/B tests to prove that switching from Standard Shopping campaigns to PMax has increased your conversions. If you're satisfied with the results, it encourages you to continue using PMax for the best results.
Plan budgets early with Performance Planner –  It explains how to use Google's Performance Planner to review your campaign's projected monthly and quarterly performance. This tool can also be used to get recommendations on how to amend your campaign for the same spend. It's worth noting that the tool's forecasts are adjusted seasonally to enable marketers to identify conversion opportunities during key periods like holidays.
Taking seasonal action – The guide also contains tips on how to reduce ROAS targets to boost visibility for high-priority products during key periods, for example, in the lead-up to a holiday. Google advises setting more aggressive ROAS goals ahead of time to ensure your campaign reaches potential customers already researching purchases for maximum conversions.
Consolidation – Google advises consolidating your campaign structure where possible whenever you set up a new PMax campaign. This helps AI to optimize performance across channels using a unified budget.
Reaching high-value customers – Google has rolled out its New Customer Acquisition with High Value optimization tool in beta. This feature was designed to help optimize campaigns for new customers with a high predicted lifetime value, while still optimizing for regular new customers and engaging existing customers.
More insights and reports – The updated document also provided information on its new reporting features, including:

Asset group metrics
Performance change insights
Creative strength tests
Product-level data
---
Get the daily newsletter search marketers rely on.
---
What has Google said? Google announced its new features via an update posted in its Help Centre. A spokesperson said:
"We've created these best practices for retail marketers who are running Performance Max campaigns with a Google Merchant Center feed."
"If your goal is to increase sales and reach new customers, these guidelines will help you get there."
Deep dive. Read Google's Retailer Best Practice Guide for more information.
The post Google's Performance Max Best Practices Guide gets major update appeared first on Search Engine Land.
from Search Engine Land https://searchengineland.com/google-performance-max-best-practice-guide-update-430499
via free Seo Tools