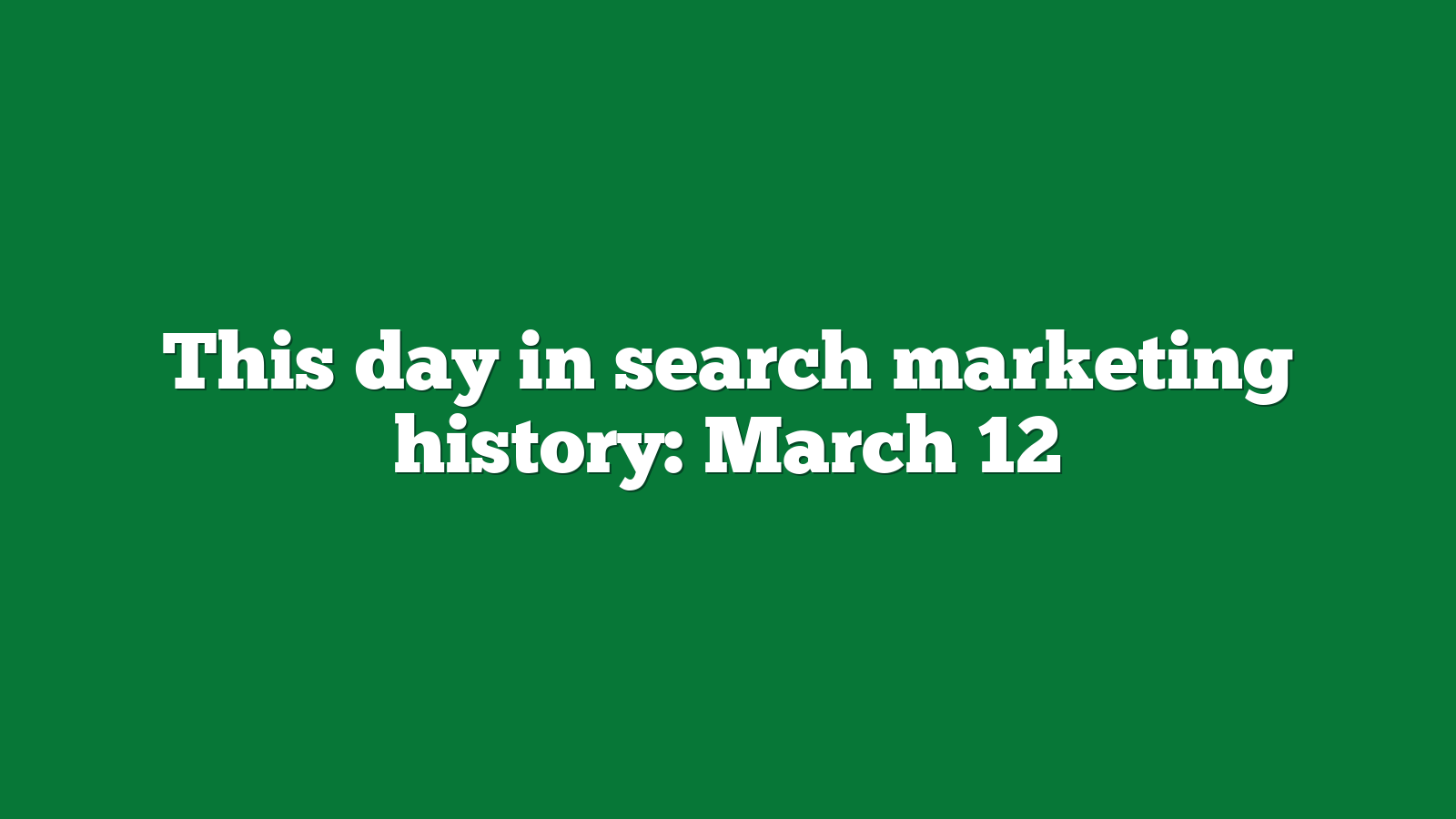 This day in search marketing history: March 12
Google publishes video of search quality meeting
In 2012, Google shared a video from one of its search quality meetings – something that few outsiders had ever seen.
Google annotated the video to make the conversation more understandable to the general public, as well as explain more about the particular feature that was being discussed, a change to how it handles spelling corrections.
"I got to attend one last October, and it was one of the most fascinating, interesting things I've witnessed in my nearly 16 years of covering search," wrote Search Engine Land's Editor-in-Chief Danny Sullivan. "I watched many different features get evaluated, with discussion and debate flying back-and-forth among those gathered in the crowded room as well as those interacting through video conference…"
Read all about it in An Unprecedented Video Glimpse Into How Google Crafts Its Search Results.
---
Also on this day
---
2020: The mandatory deadline was extended into June.
---
2020: The not-for-profit search engine joined Google, Bing, Yahoo and DuckDuckGo as an option in 47 markets.
---
2019: Designed to show how changes in spend could impact campaign performance.
---
2019: The new site mirrored the UI of Google Flights – would it have a similar impact on the hotel booking market?
---
2019: Users could interact with the desktop ad format to inspect product features and details.
---
2019: Gabriel Weinberg also believed that privacy legislation could make the internet more competitive.
---
2018: Google acknowledged the suspected update but said there was nothing webmasters can do to fix their sites if they dropped in rankings.
---
2018: This new interface used a more rounded design and boldly omitted the full Google logo at the top of the search results page.
---
2018: You could track and optimize to custom metrics tailored to your goals at all levels of your campaigns.
---
2018: Google would roll out message reporting metrics in the next few weeks for the US, the UK, Canada and other countries.
---
2015: Google was testing a new local pack in the web search results that displayed maps plus logos and pictures of the business listing.
---
2015: Google seemed to be rolling out the new mobile interface where they showed Googley colored line separators in the mobile search results.
---
2015: Wal-Mart reportedly had plans to offer inventory data directly to its shoppers through Wal-Mart.com and its mobile app, rather than through an intermediary.
---
2014: While Google's goal is to give searchers a quick answer, there is no substitute for the searcher to do deeper research by clicking into the sources provided in the Google search results.
---
2014: Google's head of search, Amit Singhal, said "we're always experimenting" and this design test was just that, one of Google's experiments.
---
2014: Google said it was reexamining the issue and seeking a better solution.
---
2014: The test only ran in the U.S. and was small with about 30 advertisers participating and banners showing on about 5% of search queries.
---
2014: Concert information for a musician would be pulled from the artist's official website if the site included structured data markup.
---
2014: When you clicked on "read all . . . reviews" or "write a review" you were taken to the Yelp profile or review page for the specific business.
---
2013: Complete with step-by-step instructions and videos that outlined each part of the process. 
---
2013: A promotional video suggested the Google Search App for iOS may be gaining Google Now support.
---
2013: Google had to take additional measures to educate employees and consumers about data privacy.
---
2013: Facebook was focused on improving search from within Facebook through Graph Search.
---
2012: Unfortunately, several pieces of important functionality were lost with this change.
---
2012: Survey respondents had a very positive view of search and the quality of search results. Yet the majority gave an unequivocal thumbs down to search personalization (and behavioral targeting).
---
2012: The easter egg showed the value of the results in those number systems.
---
2012: Photosynth made it simple to create photo panoramas without any additional stitching/editing required.
---
2012: Reactions from local community directory AmericanTowns.com; product reviews site Buzzillions; small business networking site MerchantCircle; and product search engine TheFind.
---
2011: In the controversial tweet, Bing promised to donate $1 to quake relief for every retweet, up to a maximum $100,000 donation.
---
2010: In addition to microformats and RDFa support, Google had added microdata support, which was part of the HTML5 specification.
---
2010: China's no-compromise-on-censorship position was reiterated by a top-level Chinese minister.
---
2010: The TV shortcut showed the title and a short synopsis of the next episode, along with video clips and links to see photos, the show's schedule and an episodes list.
---
2009: A video showed how Google prices and ranks search ads in the AdWords system based on quality and bid.
---
2009: You could see up to 20 images on a single page. When you clicked on the details of that image you could view a larger thumbnail, visit the web page, or view it in full size.
---
2009: Google announced a wide range of new services under the banner of Google Voice.
---
2009: Flash video, games, and documents could now be embedded into Yahoo search results with only a few lines of code.
---
2009: There were a lot of stats and analyses about Twitter's traffic, how it compared to other social search sites, and who benefited from all the traffic Twitter can send.
---
2009: One of Google's longest serving executives, Tim Armstrong, was departing the company to become AOL's new chairman and CEO, replacing existing chair and CEO Randy Falco.
---
2008: Why spinning off Performics needed to be a priority.
---
2008: Google announced it would have webmaster communication messages waiting for webmasters even if they have not yet verified their site in Google Webmaster Tools.
---
2008: Nanaimo, a British Columbia town on Vancouver Island, was also known as "Google Earth Town" or "the capital of Google Earth."
---
2008: Were the stars aligning for a potential Yahoo-AOL alliance in an effort to address both companies' woes?
---
2008: Vertical health destination and search engine Healthline teamed up with US health insurance carrier Aetna to offer what the company called Aetna SmartSource – customized health search.
---
2008: Click Forensics got $10 million in funding; an early Googler donated money to San Jose State; the fight to control IAC carried on and more.
---
2007: The days of doing a Google search that brought up results leading to search results from other sites were heading for a close.
---
2007: Google and Dish Networks were reportedly going to sign a TV ad deal.
---
2007: Advertisers and publishers were happy with early tests from Google's Print Ads and Audio Ads.
---
2007: A roundup of various local online advertising forecasts and some perspective on what the "local search market" may be worth.
---
From Search Marketing Expo (SMX)
---
Past contributions from Search Engine Land's Subject Matter Experts (SMEs)
These columns are a snapshot in time and have not been updated since publishing, unless noted. Opinions expressed in these articles are those of the author and not necessarily Search Engine Land.
---
< March 11 | Search Marketing History | March 13 >
The post This day in search marketing history: March 12 appeared first on Search Engine Land.
from Search Engine Land https://searchengineland.com/search-marketing-history-march-12-394185
via free Seo Tools