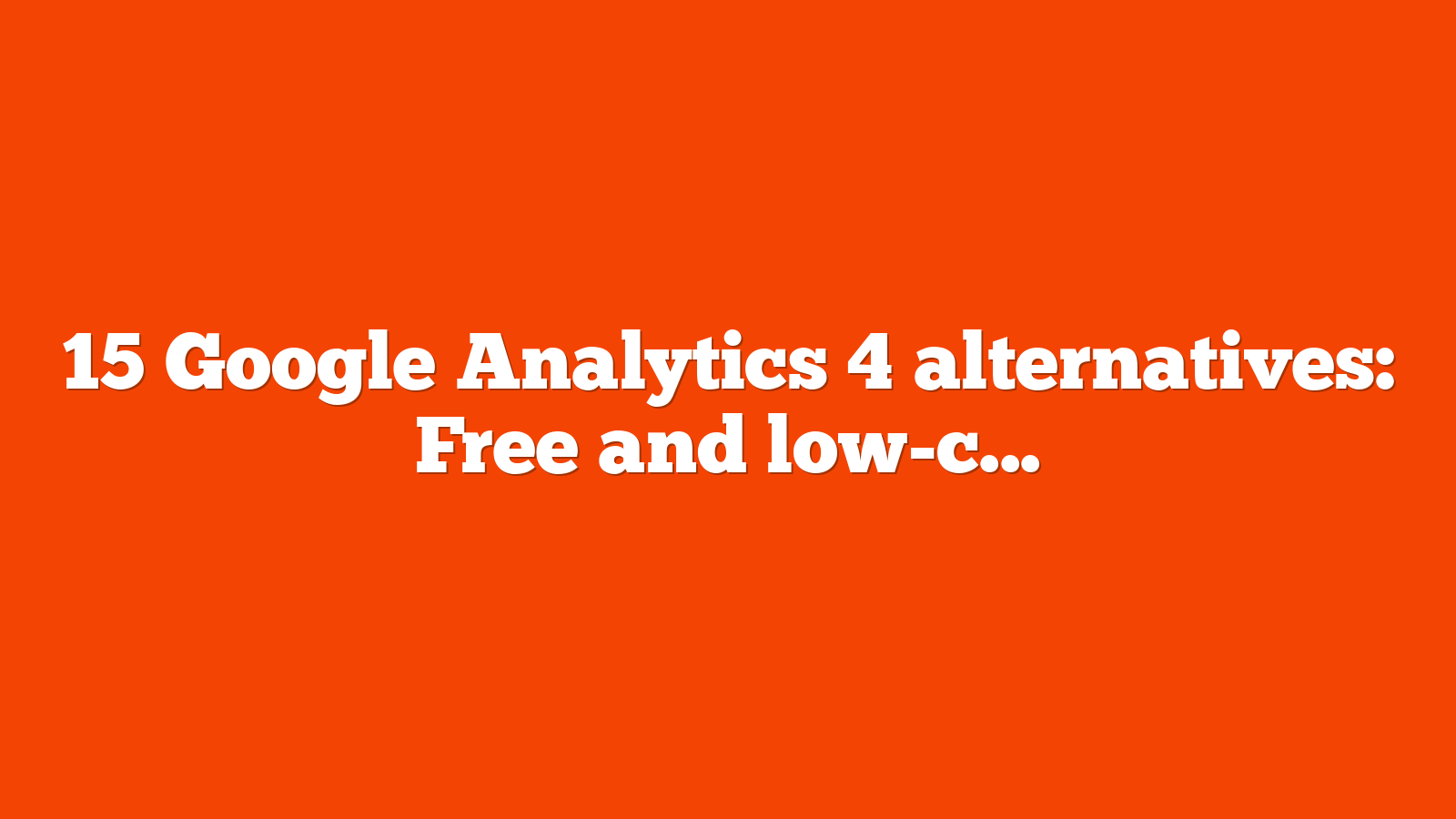 15 Google Analytics 4 alternatives: Free and low-cost options
Google Analytics 4 (GA4) is a sophisticated web analytics tool. But it isn't your only option.
Despite its many advantages, there are also plenty of disadvantages to consider.
Luckily, there is no shortage of analytics tools that can compete with it, both in features and price.
Here, we've compiled a list of 15 free and low-cost alternatives to Google Analytics 4 that you may want to consider.
1. Matomo
Matomo is an open-source analytics platform that provides similar features to Google Analytics. It offers real-time analytics, customizable dashboards and detailed reports.
Matomo also gives users complete control over their data and offers a range of privacy features.
One of the most popular Google Analytics alternatives, Matomo is free if hosted on your servers.
2. Piwik PRO
Piwik PRO is a commercial spinoff of Matomo. The main differences are enterprise-level support and the integration of a customer data platform.
Like Matomo, it has an integrated privacy consent manager.
Piwik has free and paid plans.
3. Clicky
Clicky is a flash-free, real-time analytical platform that is easy to use and records and tracks user actions in detail.
It offers features like heat mapping, backlink analysis, and mobile compatibility.
Clicky has a free option and four paid options.
4. Heap
Heap is best suited for online products.
It lets you measure every interaction on your website, including swipes, clicks, tabs, form submissions and page views.
Heap also offers retroactive analytics, which allows you to examine the impact of changes to your website or app.
Heap offers both free and paid plans.
5. Clarity from Microsoft
Clarity from Microsoft focuses on users interacting with your website.
It summarizes information in a convenient dashboard and provides data like rage clicks and excessive scrolling, which could indicate user frustration. Clarity also offers session recording features, which can help you understand user behavior.
Clarity is free.
6. Woopra
Woopra provides website analytics based on four data types: people, journey, trends, and retention.
It analyzes user actions based on their journey through different touchpoints like customer reactions after introductory emails.
Woopra tracks usage through your website and apps with real-time analytics and data. It also offers customized live reports that can help you use data to improve your customer retention and engagement.
Woopra offers free and paid plans.
7. Countly
Countly is an open-source analytics tool that prides itself on being a GDPR-friendly alternative to Google Analytics.
It offers real-time analysis across websites and apps, as well as a unique user ID feature that allows the same user to be identified more easily across multiple browsers and devices.
It has free and paid options.
8. Smartlook
Smartlook is an analytics solution tool for websites, iOS/Android apps and various app frameworks.
It helps users understand how customers interact with their website or app by providing features such as session recordings, heatmaps, automatic tracked events, and conversion funnels.
Smartlook has free and paid options.
9. GoSquared
GoSquared is a web analytics platform designed for ease of use.
Its features include heatmaps, session recordings and funnel analysis. It is also privacy-focused, with features like IP anonymization and consent management.
Plans start at $9.
10. Kissmetrics
Kissmetrics tracks and analyzes user behavior based on first-party data it collects from your website or app.
Features include heatmaps, session recordings and funnel analysis. Kissmetrics helps personalize the user experience by showing different content to different users based on their behavior.
Plans start at $299.
11. Cabin Analytics
Cabin Analytics is designed to have a very small carbon footprint.
It is similar to Kissmetrics in that it is based on first-party data and can personalize user experience.
Cabin Analytics has free and paid plans. 
12. PostHog
PostHog is an all-in-one product analytics platform that includes session recording, A/B testing and other features to track user behavior in your app or website.
It is an event-based platform, which means you only pay for the events you track.
PostHog offers a generous 1 million events per month for free, so most smaller users can use it for free.
13. Plausible
Plausible is a leader in the trend of lightweight, privacy-oriented analytics tools.
It is easy to use and does not collect any personally identifiable information, making it ideal for complying with the E.U.'s General Data Protection Regulation (GDPR). This comes at the cost of functionality.
Plausible, and tools like it, only track very basic website metrics like pageviews, session duration and referrer information. It is a good option for content and marketing teams who just want easy-to-use, basic website analytics.
Plans start at $9.
14. Fathom
Fathom is another privacy-focused analytics tool like Plausible.
It doesn't have the deeper features of GA4, but it's a solid choice if you want a lightweight website analytics tool.
Plans start at $14.
15. Counter
Counter is an open-source analytics tool that uses a "pay what you want" model.
As with Plausible and Fathom, it is privacy focused and has very basic features and measurements.
The big difference between it and the previous two entries is you can't drill down deeply into individual page performance. However, it is free.
The post 15 Google Analytics 4 alternatives: Free and low-cost options appeared first on Search Engine Land.
from Search Engine Land https://searchengineland.com/google-analytics-4-alternatives-free-low-cost-428794
via free Seo Tools