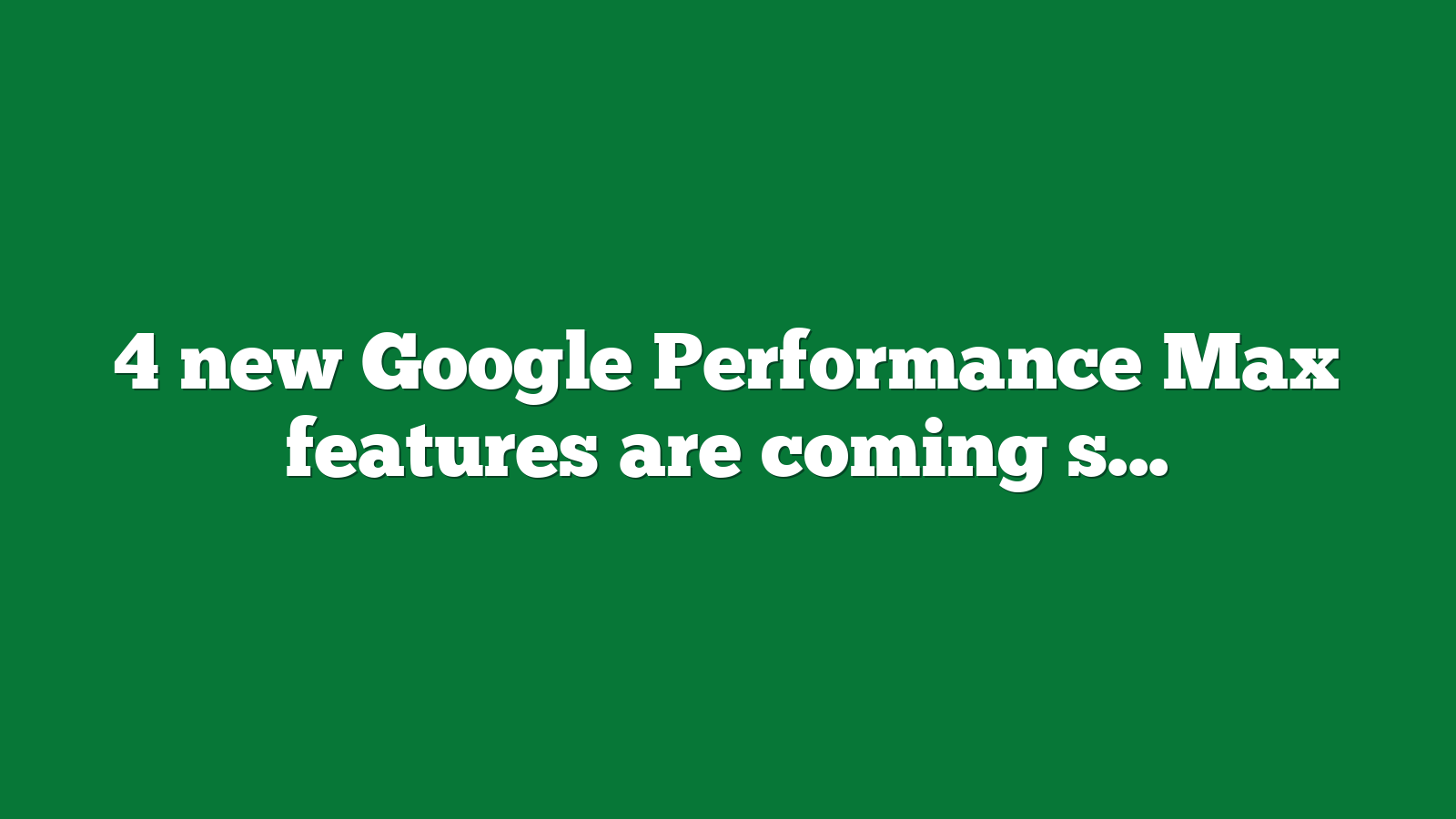 4 new Google Performance Max features are coming soon
Google just announced that they're adding four new Performance Max (PMax) features.
TBD. There is no word on when exactly the new features will be rolled out.
Campaign-level brand exclusions – for added control to ensure PMax doesn't serve on branded queries advertisers may want to avoid.
Page feeds – this feature gives advertisers flexibility to help send traffic to a specific set of landing page URLs on their website.
Video creation – we're making this easier by incorporating more editing tools directly into the campaign setup workflow.
Additional reporting – asset group level reporting and budget pacing insights will continue to help advertisers increase their understanding of how campaigns are performing. 
Why we care. Advertisers have been asking for improvements to PMax for quite some time, and it seems like Google is at least trying. The ability to view conversions, conversion value, and other metrics at the asset group level allows advertisers to refine their creative strategy and optimize their campaigns more effectively.
Second, budget pacing insights can help advertisers ensure that their campaigns are delivering the desired results.
And, the integration of video creation tools directly into PMax campaign setup and editing workflows is a simple and efficient way to create high-quality video content. However, the tool could be very limited in features.
The new features and tools seem like a step in the right direction, but be sure to test them extensively and provide your feedback to Google whenever possible.
Campaign-level brand exclusions. Google will provide advertisers with more control over their Performance Max campaigns. These exclusions will prevent the campaigns from appearing in Search and Shopping inventory for specific branded queries that the user wishes to avoid. By applying these exclusions, you can also prevent traffic from brand misspellings and brand searches in a foreign language. You'll be able to exclude your own brand terms and choose from a list of other brands to exclude. If a particular brand is not on the list, you can request its addition through Google Ads.
Page feeds. Performance Max users will soon have access to page feeds, a feature that will allow them to further optimize results from Search inventory. With page feeds, you can direct traffic to specific landing page URLs on their website and group those URLs by theme using labels to make them more easily usable in a particular campaign or asset group.
When combined with final URL expansion, which uses keywordless AI technology to better understand the importance of landing pages to a business, page feeds can help guide and inform the AI and drive valuable conversions from unexpected or untargeted search queries. This provides Performance Max users with another tool to help them effectively utilize their final URL expansion feature.
Video creation. To simplify the process of creating video ads, video creation tools have been integrated directly into the Performance Max campaign setup and editing workflows. Previously, these tools were only available in the asset library. This integration allows users to create video content quickly and easily, even if they lack the resources or time to do so.
Additional reporting. Soon you'll have the ability to view conversions, conversion value, cost, and other metrics at the asset group level. This data will enable you to refine your creative strategy and optimize campaigns.
In addition, budget pacing insights will be available soon, providing you with automated suggestions to optimize budgets and improve campaign performance. These insights will include information on how much a campaign has spent and is projected to spend, as well as current and forecasted conversion performance.
Not news. Google has also recently rolled out account-level negative keywords, experiments, and the new Content Suitability Center to improve efficiency. If you haven't already tested these features, it might be worth giving them a shot.
The post 4 new Google Performance Max features are coming soon appeared first on Search Engine Land.
from Search Engine Land https://searchengineland.com/4-new-google-performance-max-features-are-coming-soon-393494
via free Seo Tools