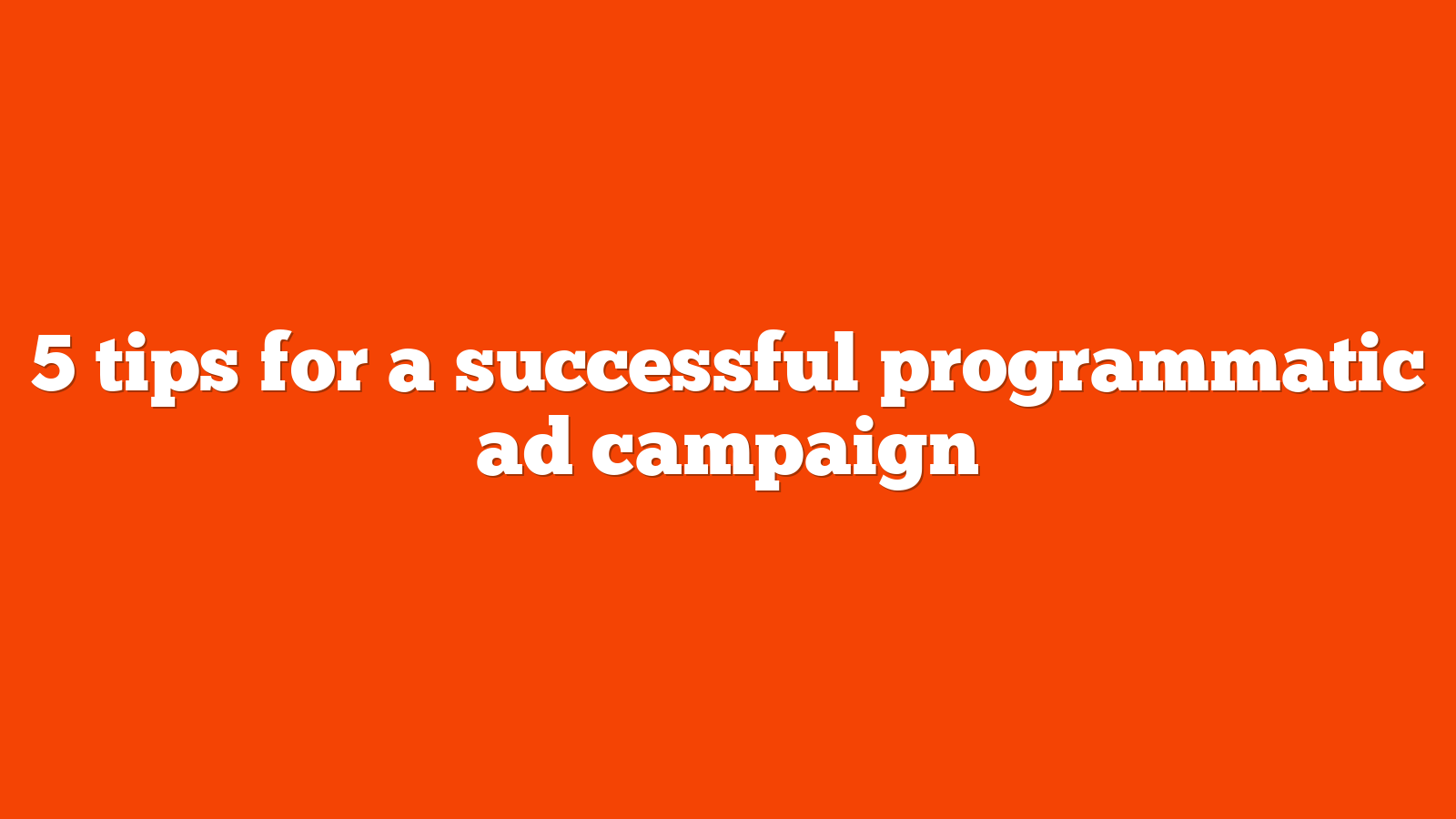 5 tips for a successful programmatic ad campaign
Programmatic advertising enables digital marketers to buy advertising space through automated technology and machine learning, typically using a demand-side platform (DSP).
Leaning on automation is nothing new to most marketers.
Programmatic advertising streamlines the process of buying ad inventory across a huge network of platforms. It also gives advertisers greater control and granularity over placements, budgets and creative assets. 
Yet, automating the media buying process has its downside: it's easy to let the system take over without considering what's best for your agency.
With many targeting, creative, and optimization options, determining the right approach for each client can be overwhelming.
Here are five tips to ensure your programmatic campaign is as successful as possible.
1. Know your objective
A clear purpose is key to your programmatic strategy.
Clearly focusing on your client's objectives will inform almost everything about how you set up your programmatic activity. 
Is your client looking to:
Drive traffic to their site?
Increase conversions?
Increase brand awareness around their product?
They might want to do all three (in our experience, this is often the case).
Knowing these objectives will help you allocate budget accordingly and make a bigger impact where it matters most.
To put this in perspective, if your goal is to build brand awareness, you can opt for a CPM bid, prioritizing impressions, or a CPE (cost per engagement) model, where you pay for the impression only when the user clicks and stays on the site for more than 15 seconds.
Alternatively, a lower funnel objective will probably involve implementing a CPC bid strategy. Aligning your objectives with your campaign strategy from the outset is key.
2. Plan your approach
As with most digital advertising channels, programmatic is designed to reach the right people at the right time.
And, as with most digital advertising channels, programmatic performs best when you give it a clear steer on which audiences to go after.
Thankfully, programmatic advertising can be a powerful forecasting tool, providing valuable insights into campaign performance and scalability.
You can use this immediately before putting a campaign live or even to get an idea of how a campaign would perform if you were to launch an activity in the future.
You can gain a forecast of how your campaign will perform by defining several parameters, such as:
Budget.
Audience.
Goal.
Geography.
And more.
This is valuable, as it helps you identify which levers will improve performance.
---
Get the daily newsletter search marketers rely on.
---
3. Go multi-channel
In today's online ecosystem, consumers have more touch points than ever when interacting with a brand.
It's wise to adopt a strategy that will reach those users across platforms, channels and devices. 
Programmatic advertising has a multichannel approach advantage over the Google Display Network. You can target potential customers across the following channels:
Display
Video
Native
Audio
Using multiple channels in your programmatic strategy will help you capture the attention of consumers active on different platforms and create a consistent message for those across multiple channels.
4. Target the right people
Targeting relevant audiences is crucial for a successful programmatic campaign.
Experienced marketers familiar with paid search and social campaigns will find some familiar targeting options in programmatic, with some offering even more control.
Page Context AI (PCAI) advertising
Page Context AI (PCAI) advertising leverages artificial intelligence to place your ads in the right place in the right context, using keywords that you give it to determine where ads are placed.
For example, if you give the system a keyword such as "surfboard," PCAI will look for available placements on sites where the content relates to surfboards and surfboarding.
You can also determine the extent to which the system expands its reach.
You can keep it hyper-relevant and appear only on specialist sites related to your keyword or broaden the targeting by using it as a starting point.
Lookalike audiences
Lookalike audiences enable you to create a list of users whose online behaviors closely match those who have visited your site previously. (This can then be expanded to lookalikes of users who purchased from your site.)
Lookalike audiences ensure your campaigns reach relevant users with characteristics that align with your existing customers. 
Deals
Many programmatic DSPs will offer deals.
Deals are custom-built packages that target specific inventory based on device and audience targeting previously used by other advertisers.
Want to run a cannabis advertising campaign in the USA on Connected TV? Check.
A Spotify-only audio campaign for pet products in France? There's a deal for that.
Deals have the advantage of being highly specific and having built-in forecasts, making them a powerful all-in-one option when it comes to targeting.
5. Use data to optimize
Once your campaign is live, reviewing and optimizing your campaign performance is crucial in ensuring a successful programmatic campaign. 
Ideally, once your campaign is live, you should optimize throughout its duration.
There are two main ways to optimize your programmatic campaigns:
Against objectives
Consider your campaign KPIs and how you are performing against them.
Is your average CPC much higher than the CPC bid you originally opted for when setting up the campaign?
Certain devices or audiences could be driving that up. You might want to consider pausing them.
Is your campaign budget being eaten up by targeting users on tablets?
You could set a negative bid adjustment, telling the system to bid, let's say 75% less, for users who are on tablets.
Identifying which devices, audiences or placements are the outliers in terms of your KPIs is key to meeting your overall campaign objectives.
Placement analysis
Programmatic advertising reaches approximately 95% of the web, so it's natural that some placements will outperform others.
Analyze your placement reports to get a sense of the quality of the site your ads appear on and which supply sources are performing the best.
If there's a certain niche placement that's relevant to your campaign that has a really strong CTR and conversion rate, adjust your bids so that it's able to perform.
If certain supply sources tend to eat up the budget but have a low conversion rate, consider lowering their bids or excluding them altogether.
Your campaigns will usually improve over time by default. Still, you can speed up this process by reviewing your campaign data and prioritizing the areas driving the best performance.
Maximize programmatic advertising with these tips
There's much more to programmatic than can be explained in a single article.
However, sticking to these five tips will give you and your campaigns a great chance of success.
The post 5 tips for a successful programmatic ad campaign appeared first on Search Engine Land.
from Search Engine Land https://searchengineland.com/programmatic-ad-campaign-tips-success-429975
via free Seo Tools