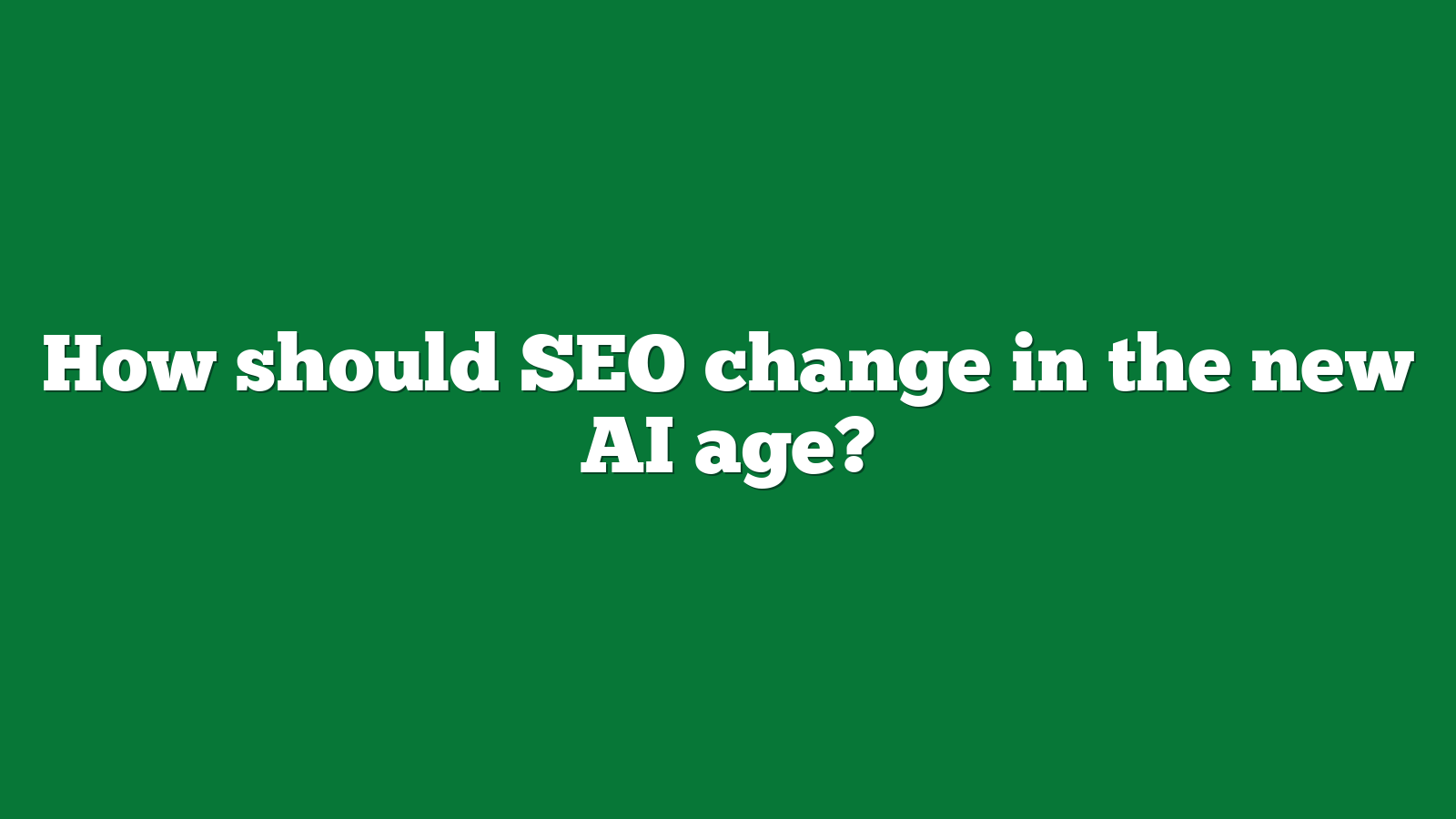 How should SEO change in the new AI age?
Along with the deluge of AI tools in the market, a host of AI "experts" suddenly appeared. New litanies of "SEO is dead" and "AI will take your jobs" abound.
The reality is neither of those is true, or at least not true in the way many people are considering.
SEO is not dead, AI will not take your job
People have been predicting the end of SEO as far back as the late '90s. (I even penned a fun song to the tune of Neil Young's "Hey Hey, My My" to poke a little fun at those predictions.)
But we know SEO is constantly evolving – and will continue to change. AI is not really all that new to SEO, either. Google has been using machine learning and AI to sharpen its search results, detect spam, and improve matching searcher intent to website content.
SEO did not die, and those who evolved their SEO work flourished. We adapted to the changes and started improving how we optimize websites to earn more attention in organic search.
Despite all the recent hype, SEO tools have used AI for a few years. Now that it's more ubiquitous, AI is not limited to premier tools or those who can write code.
It's been said many times by many people, but it bears repeating:
"AI will not replace you. A person who's using AI will replace you."
---
Get the daily newsletter search marketers rely on.
---
What should SEOs do in this new era?
Fabrice Canel reiterated, "SEO will never be dead, but it will change. Stick with the same SEO playbook as before."
That advice came with caution. "Keep watch as usage increases, transforming the way people search." Those are things we should be doing anyway.
Relying solely on AI for content is doomed to fail. It won't fail because the search engines can detect AI-generated content and automatically mark it as spam, but because the quality won't be there. High-quality content will always beat lower-quality content over the long haul.
You can use AI-generated content, but as Google's Gary Illyes advised, "Be sure it's reviewed by humans to ensure quality and accuracy. As smart as AI platforms can be, they cannot yet replace human experience, perception, and expertise. Generative AI can also have trouble in languages with complex grammar."
Illyes pointed out that AI content in Japanese can be inaccurate. For that reason, humans should review AI translations.
Generative AI can do mundane tasks like writing HTML titles, meta descriptions, and schema tags more quickly and efficiently. Content generated this way should still be reviewed by a person, but reviewing is much faster than writing from scratch.
Are you getting the idea here? AI cannot replace humans. It may be able to sometime in the future, but not yet.
Another great use of AI is keyword research. Never before have we been able to sift through vast amounts of information quickly to arrive at solid, data-driven recommendations. This will only get faster and more accurate over time. 
Stay ahead of the game
Learn to leverage AI in this capacity to save time and make better content optimization recommendations. Keep watch as this type of service becomes more of a commodity and price points decrease.
I've heard some digital marketing professionals liken what's happening now to when Google first came out or when Twitter came onto the scene. There's much to be excited about with all the possibilities on the horizon.
The post How should SEO change in the new AI age? appeared first on Search Engine Land.
from Search Engine Land https://searchengineland.com/how-seo-change-new-ai-age-394085
via free Seo Tools