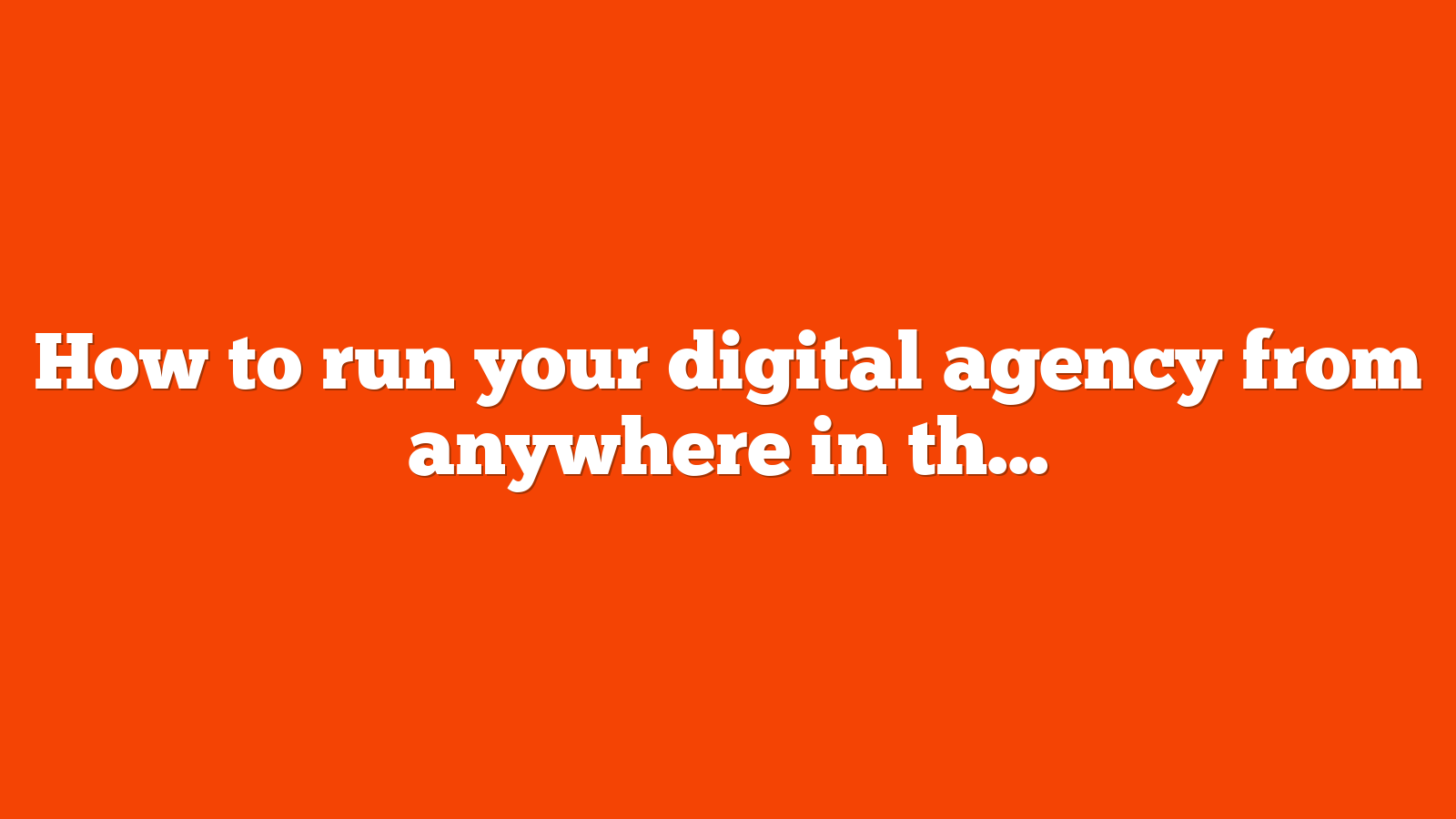 How to run your digital agency from anywhere in the world
Imagine if you could merge work and pleasure, spending your afternoons basking in the sunshine or exploring a new city. You feel happy that business is taken care of and that you can relax and enjoy your surroundings stress-free.
Well, imagine no longer.
In this article, I'll share tips from 10+ years of experience in doing just that. My mission is to illustrate that such a lifestyle isn't merely a far-fetched dream but an attainable reality, one that can be tailored to suit you. 
Whether that means sneaking in an extra holiday each year, spending a few months traveling Asia, or even relocating to a different country, it's all possible.
For the last 16 years, I have owned and run a small digital marketing agency. During that time, I have traveled extensively, rarely took time off from work completely (don't judge – I love it that way!), made the permanent move to Spain and managed a pretty successful business worldwide.
Learn how to run your business from anywhere in the world. The secret is how you manage your workspace, time, boundaries, team and technology.
1. Plan your workspace
To make your travel and work arrangements smoother, start by researching the availability of internet services and power reliability in the country you're visiting. Knowing the circumstances upfront will help you plan better.
If you intend to work from your accommodation, designate a specific space as your dedicated desk. Avoid makeshift setups on furniture or using the kitchen counter, as these can become problematic. Packing and unpacking your desk each time you need to use the dining table is also inconvenient.
Consider a co-working space, but check their operating hours to ensure they align with your work schedule. Conduct thorough research before your trip to make informed decisions.
2. Manage your time 
Optimize your productivity by leveraging different time zones. If you can work while your clients sleep, you'll accomplish more. Consider adopting the "5 a.m. club" mindset.
Create a schedule that combines overlapping working hours with dedicated uninterrupted time for deep work or batched tasks. This allows for focused work without distractions while still having time for meetings, calls, and team communication.
Maintain discipline to step away from work and enjoy your surroundings. The goal is to work fewer hours overall, so maximizing your efficiency is crucial.
Utilize techniques like task batching and time blocking to stay focused and avoid task-switching.
Pre-complete and schedule tasks like social media posting, blogging, and email newsletters if your travels are short-term.
---
Get the daily newsletter search marketers rely on.
---
3. Set your boundaries
When traveling with family or in a distracting environment, noise-canceling headphones are essential. Playing music while you work can help block distractions and signal that you shouldn't be interrupted.
Communicate clearly with your travel companions that during work hours, you're focused and interruptions should be limited to emergencies. Likewise, when you're not working, dedicate your time fully to them. Strict adherence to these boundaries is vital.
Establish boundaries with your clients as well. As long as you can communicate and deliver work, most clients won't mind your physical location.
Consider adding a note to your email signature before traveling, informing recipients that your working hours may vary and you may not respond immediately.
Alternatively, specify specific times for email responses. Stick to the schedule consistently. This allows clients and colleagues to adapt to your communication patterns in advance, allowing you to address any issues before your trip.
4. Empower your team to take the reins
You'll be pleasantly surprised by how much your team can handle without your constant input. It may be challenging for business owners to let go completely, but you and your team will adapt to your absence during an extended period away.
This allows you to focus on essential tasks that require your attention while empowering your team to take on more responsibility without constant approval-seeking.
Maintaining open communication channels is crucial for remote work. Schedule regular team meetings – at least twice a week – to discuss work-related matters concisely and bond with your team.
Despite not having informal chats, showing genuine interest in your team members fosters honest and open relationships.
Encourage the team to have discussions without your involvement for minor day-to-day issues. If you don't have a team, consider hiring a freelancer to handle basic administrative tasks and manage client communications while traveling.
Clearly define their responsibilities, create standard operating procedures (SOPs) in advance, and bring them in at least two weeks before your departure.
Even if they work only a few hours daily, having someone there can greatly ease your mental load. You might even find it difficult to let them go once you return.
5. Choose the right tech
For most travel situations, pack essentials like your laptop, noise-canceling headphones (highly recommended!), adapters, mobile phones, and chargers.
If you anticipate limited WiFi access, consider bringing a universal WiFi dongle. In case you can't connect online, don't panic. Things will likely run smoothly without you, and you'll regain connectivity soon.
Ensure your files are stored in the cloud rather than solely on your laptop to avoid potential stress from loss, damage, or theft.
Keep a paper copy of important phone numbers, your passport, visas, ID cards, and travel insurance. Use a waterproof folder and separate them from your laptop and phone whenever possible.
Additionally, store copies of important documents on your phone, password-protected for security.
Don't forget to pack spare chargers and adapters for your tech, as they can break unexpectedly during travel.
Make the most out of your experience
The main goal is to enjoy the country you're visiting, as that's the reason for your travel. Immerse yourself in the culture, try local cuisine, and explore and interact with locals. Working abroad for three months but seeing little beyond a hotel room would be unfortunate.
Consider starting work early and finishing at lunchtime to have the rest of the day for leisure. This provides an uninterrupted time when clients and team members are typically unavailable. Feeling confident that everything can wait until the next day contributes to a more relaxed mindset.
Designate a team member to contact you only for important matters, such as a significant drop in a client's website traffic. Knowing they will reach out only for urgent issues allows you to leave your temporary office.
To stay present in the moment, consider using a cheaper phone while out exploring and leaving your work phone at your accommodation. It may take some adjustment, but it helps prevent constant email refreshing and allows you to engage in your activities fully. Choose the approach that suits your personality best.
If taking an extended trip makes you nervous, start with shorter school holidays and gradually extend them until you feel comfortable being away for longer periods.
Lastly, try not to worry about your clients' perceptions. As someone who lives abroad, most of my client interactions occur remotely. Clients have become accustomed to it and sometimes even envy the lifestyle.
The post How to run your digital agency from anywhere in the world appeared first on Search Engine Land.
from Search Engine Land https://searchengineland.com/run-digital-agency-from-anywhere-428155
via free Seo Tools