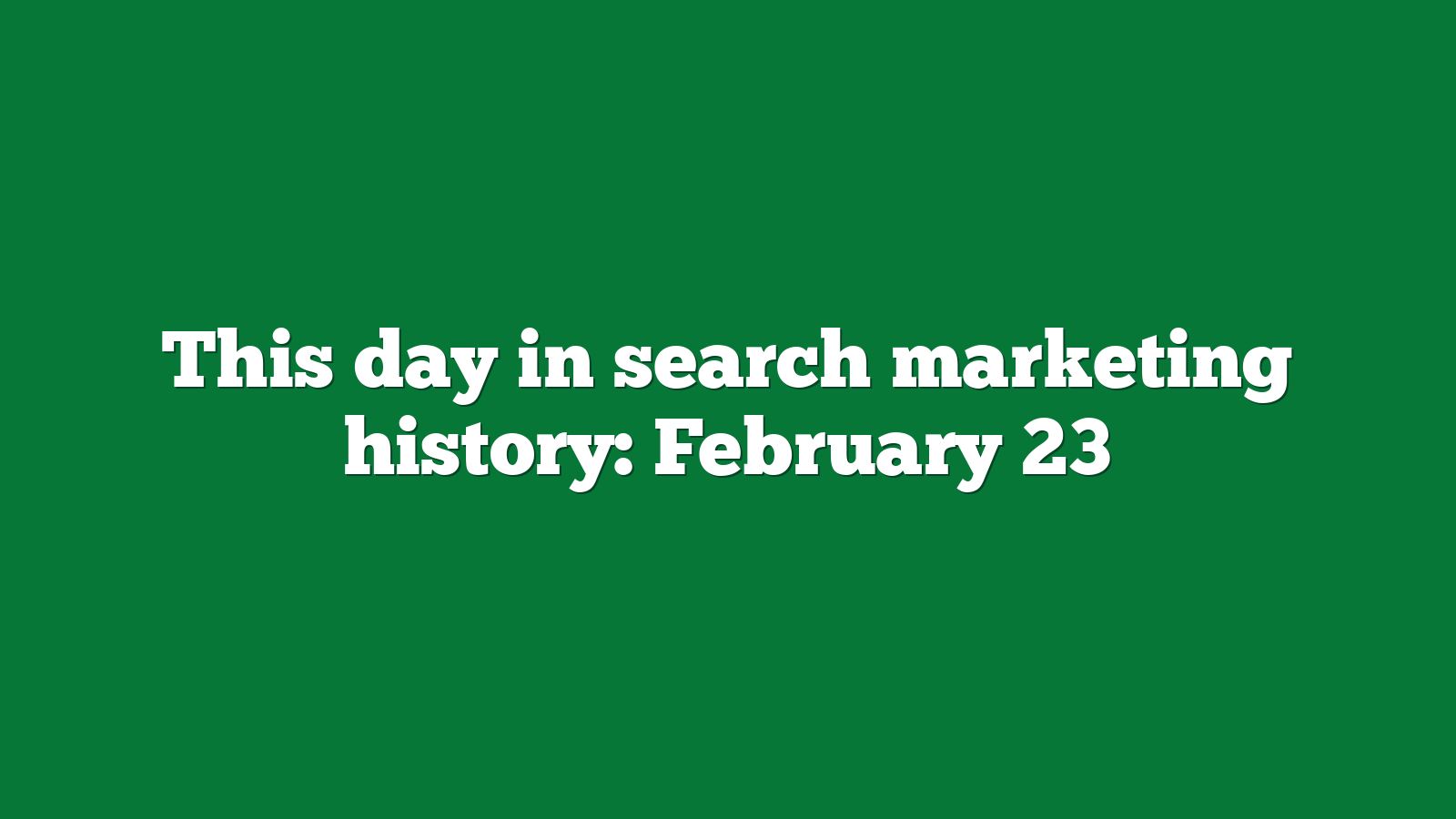 This day in search marketing history: February 23
Google penalizes Natural News
In 2017, Google confirmed that a controversial alternative medicine website was delisted because of a webmaster guidelines violation, not because of its political views.
Natural News, a "pro-Trump" news site, claimed it was banned for its political views.
However, Google's John Mueller said the site was penalized due to sneaky mobile redirects. He advised them to clean it up and submit a reconsideration request through Search Console.
Natural News would return to Google five days later.
Read all about it in Natural News was not banned from Google over fake news.
---
Also on this day
---
2022: Google confirmed the issue and was investigating.
---
2022: Publishers were complaining that the report showing their estimated earnings on the AdSense console overview page was wrong and significantly lower than expected.
---
2022: In addition, the platform also added a dedicated AdSense for YouTube homepage.
---
2022: Oncrawl would continue to run under BrightEdge's umbrella.
---
2021: The changes were based on Partner feedback around badge criteria and more clarity regarding Program benefits.
---
2021: Waitlist now supported takeout orders. Yelp also added enhanced analytics for multi-location restaurants.
---
2018: The Assistant would soon speak 30 languages and be able to offer mobile carrier customer support.
---
2018: 2017 was the first time since 2014 search owned a larger share of visits over social.
---
2018: The latest images showing what people eat at the search engine companies, how they play, who they meet, where they speak, what toys they have and more.
---
2017: Google listed four U.S. presidents as Klan members, even though there was no conclusive evidence any were.
---
2017: Google upgraded their iOS keyboard extension to support voice dialing and 15 more languages.
---
2016: A day earlier than expected, Google pushed AMP results in the Google mobile news carousel.
---
2016: There were huge drops in reviews and review stars.
---
2016: Bing created a site that let users upload photos of themselves to find their look-alike celebrities.
---
2015: Many mobile searchers on iOS and Android were noticing Google testing a new mobile interface.
---
2015: A judge found the connection between "default search" status on Android devices and consumer harm to be too tenuous or speculative.
---
2013: A day after warning publishers against advertorials, would Google's search team have to penalize parts of its own company for running advertorials?
---
2013: Google didn't permit automated, batch copying of AdWords campaign data for export to another ad network in the past.
---
2012: You could mouse over the related search phrase and Google would open an image preview of what the first three images looked like.
---
2012: Imagine searching on your own company's name and finding a competitor's ad that said you were "Sold Out" right on your business' most important holiday.
---
2012: The Yahoo/Microsoft Search Alliance began to transition Yahoo Search Marketing campaigns to adCenter accounts.
---
2012: Using the feature gave Bing permission to post to Facebook on your behalf.
---
2012: Yahoo has begun to test the ability to start a query on one device and continue it on another.
---
2012: It's much easier for news organizations to sell news that reaffirms our opinions than news that educates and challenges us.
---
2011: Google said it was because Facebook contacts "cannot be exported from the device" and thus do not allow users to "control their data" as freely as Google would like.
---
2011: A 2006 Belgian case that found Google in breach of copyright law for indexing newspaper headlines and snippets without permission was on appeal and approaching conclusion.
---
2010: A detailed look at the evolution Google's search algorithm over the years.
---
2010: Google announced that Google Ad Manager was ultimately going to be replaced by DoubleClick for Publishers (DFP).
---
2010: 600 vs. 700 vs. 55 per second.
---
2010: For credit card-related searches.
---
2010: Google re-engaged with China around its ability to continue operating its number two search engine in the country in an "unfiltered" way.
---
2010: Xerox wanted compensation and to prevent Google and Yahoo from using the technology.
---
2010: Google used some blunt language about two of the three complainant companies' relationships with Microsoft.
---
2010: Yahoo announced that it had deepened its relationship with Twitter and would be integrating Twitter's feeds and content across its network.
---
2009: This channel would eventually contain videos from Googlers on how to help your website succeed in Google.
---
2009: Supposedly, the Florida Attorney General's office had "convinced" Google to require AdWords advertisers to disclose this pricing information in any ad that is selling ringtones.
---
2009: An engine that could mine all that Deep Web data and present "answers" to users would be quite exciting.
---
2009: The appointment of Christine Varney as Assistant Attorney General for Antitrust at the U.S. Department of Justice could have led to more antitrust problems for Google.
---
2009: Yet another Yahoo reorganization was coming.
---
2009: The winners were shown right at the top of the page.
---
2007: A basic but clear explanation.
---
2007: Google China, by default, seemed to have Google Suggest turned on.
---
2007: Advertisers were being charged astronomical prices per click, even though they had set their bids lower.
---
2007: They added information including movie trailers, user and critic ratings, a brief summary, and movie showtimes.
---
2007: A ranking of the top 25 up and coming Web 2.0 companies.
---
2007: Top campaigns contained elements of traditional media, online display advertising and search.
---
2007: 400 "issues" appeared in nearly nine years of publication.
---
Past contributions from Search Engine Land's Subject Matter Experts (SMEs)
These columns are a snapshot in time and have not been updated since publishing, unless noted. Opinions expressed in these articles are those of the author and not necessarily Search Engine Land.
---
< February 22 | Search Marketing History | February 24 >
The post This day in search marketing history: February 23 appeared first on Search Engine Land.
from Search Engine Land https://searchengineland.com/search-marketing-history-february-23-393429
via free Seo Tools