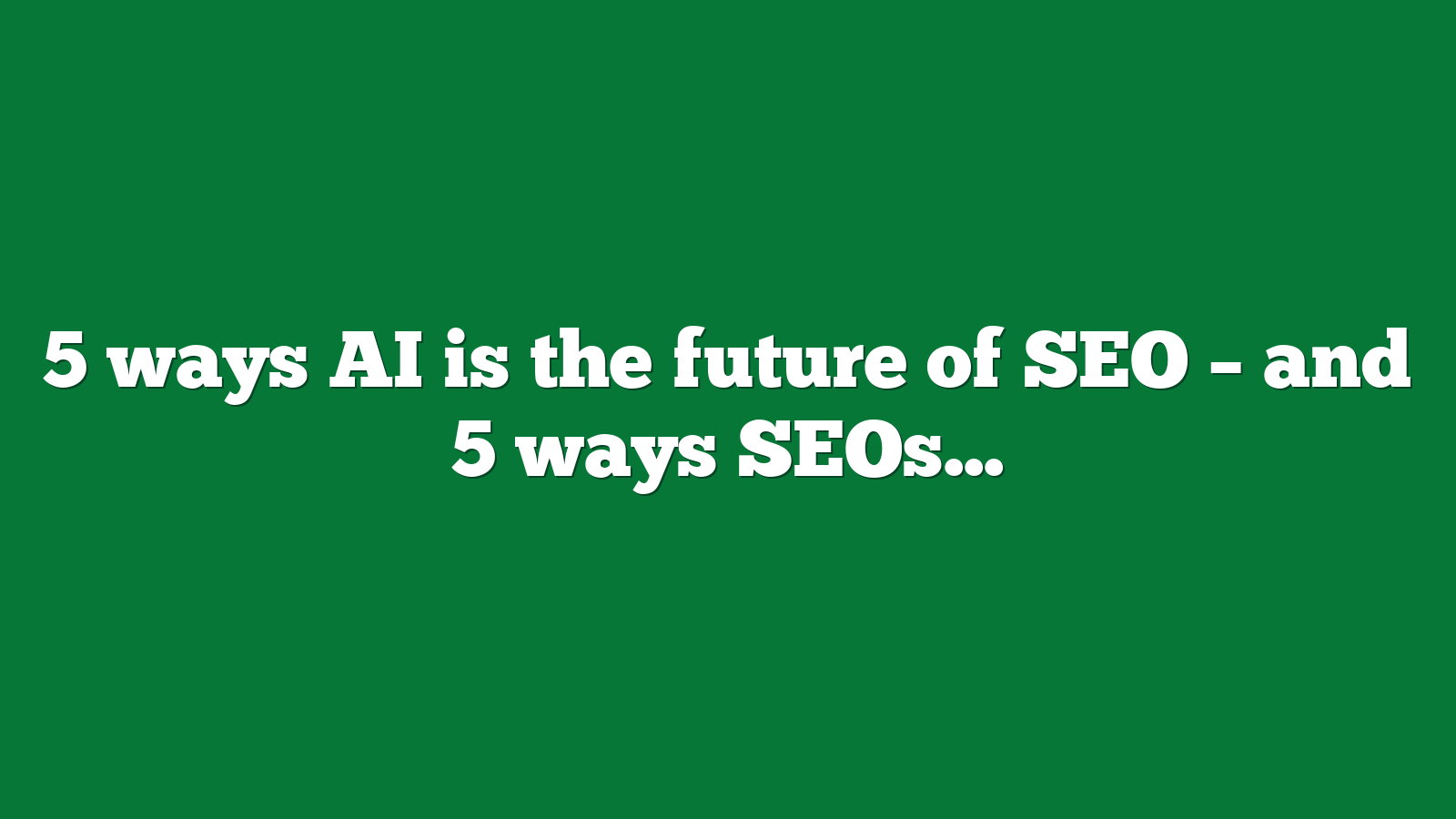 5 ways AI is the future of SEO – and 5 ways SEOs still have job security
Everyone in SEO is buzzing about AI following announcements from Google and Microsoft about forthcoming AI-powered search functionality.
It's still early, but AI is already helping search professionals do their jobs faster and easier. The sky's the limit for its future potential.
For now, however, human input remains a vital component. But whether that continues to be the case remains to be seen.
Here's a closer look at five ways AI is helping SEOs – and five ways it still has a long way to go.
1. AI generates broad global keywords – but not specific keywords
AI has helped accelerate the process of identifying global keywords, according to Michael Bonfils, global managing director of digital marketing agency SEM International. This allows him to establish a baseline to tinker with more easily.
"It by no means understands a client's unique business as all businesses are different one way or another, but it helps us speed up the process of organizing campaigns, considering suggested keywords and ad copy and evaluating the lingual translations of these words to determine if they should be added to a client's campaign or not," he said.
Bonfils estimates AI speeds up the process by about 25%, which he called "considerable help."
Meanwhile, Alec Cole, an SEO strategist at performance marketing agency Amsive Digital, agreed on the language point – going as far as calling it his "favorite" application, but also the "scariest."
That's because AI can "[review] international pages in languages I don't speak for fluency and repetition of terms."
2. AI creates markup and formulas – but inaccuracies abound
In addition to keyword ideation, Cole has used AI to write regex, Excel formulas and schema.
However, he warned of schema, "My goodness, you have to watch it."
For example, he recently had AI generate person schema for an author at a pet company and "it attempted to say she was experienced in animal husbandry, which she absolutely is not," he added.
---
Get the daily newsletter search marketers rely on.
---
3. AI produces page titles and meta descriptions – but their relevancy is questionable
For his part, Barry Rolapp, a senior SEO strategist at Amsive Digital, has used AI to synthesize content into meta descriptions and page titles, but said ChatGPT is much better with the latter.
"As one would expect, the system has issues with understanding what is important information in a body of text and what is less relevant," he added.
In addition, AI doesn't do well with character counts, so, "I often find myself having to rework the prompt to get what I want and then find myself frustrated that the same prompt does not always yield the same type of results."
Rolapp conceded this is likely due to user error, but "shows that the systems aren't able to completely understand my intent and the amount of time I take 'optimizing' a ChatGPT prompt takes away from the efficiency I am supposed to be getting from leveraging the tool."
4. AI writes content – but struggles with facts (and duplication)
While some SEOs are using AI tools to produce content, such as generating blog topics, outlines and FAQs, content creation is where things can get dicey.
For starters, SEO consultant Sara Taher noted the issue of potential duplication.
"I had a client reach out recently to ask about ChatGPT and how they can use it for content creation and I highlighted to them that the tool does not produce unique content and that content may be duplicated in the future," she added.
And while Jessica Bowman, CEO of SEO site SEOInhouse.com, conceded AI will eventually be the driving force behind scaling content production, she noted, "I would see it as a rough first draft that needs [to be] fact checked and [edited] for tone, voice and uniqueness."
She agreed AI struggles with unique elements, such as brand messaging, product descriptions, and emerging technology.
"I also have one concern about AI … it only knows what has been input," Bowman said. "So it's not going to always give you a unique angle and expertise to stand out among your competitors, the marketplace and the internet at large [for rankings]. This is something that would need to be incorporated during human editing."
5. AI can help solve problems – but its true potential is TBD
Energy company Schneider Electric uses AI for tasks like project management, keyword research, social media optimizations – but not content creation.
"One of our goals this year as a team is to really simplify for ease, value and relevance," added Danita Smith, SEO program lead in North America and senior web specialist at Schneider Electric. "And so AI fits right into that."
There's potential to save time, which Smith called "the most valuable asset."
However, it's still early days, so the company – like many others – has only started to evaluate its broader potential, including how to become a nimbler organization.
"One of the challenges that we always face is that things don't happen fast, typically in an enterprise organization and resources are tight," she said. "But there's always a push to scale things … We're looking at how we can use [these types of tools] to help us meet some of those production demands."
In addition, Schneider Electric is looking into the power of generative AI and other AI tools to become greener – and more inclusive.
"I'm looking at it as how I can use it to potentially be more friendly to our planet Earth," she said. "We can also look at it to do more inclusive marketing, which is one of our goals as well to make sure that we're using proper representation in our content and just exploring other ideas so that we are getting more creative with some of our deliverables."
There's also potential in "goodness knows what else," as Cole put it.
"I've gotten into the habit of throwing just about anything I can at it to see what comes out," he added. "It misses consistently, but it's fantastic at helping me crack the door open on difficult problems or automating a few tasks that classically took me a very long time."
The post 5 ways AI is the future of SEO – and 5 ways SEOs still have job security appeared first on Search Engine Land.
from Search Engine Land https://searchengineland.com/ai-future-seo-job-security-393431
via free Seo Tools