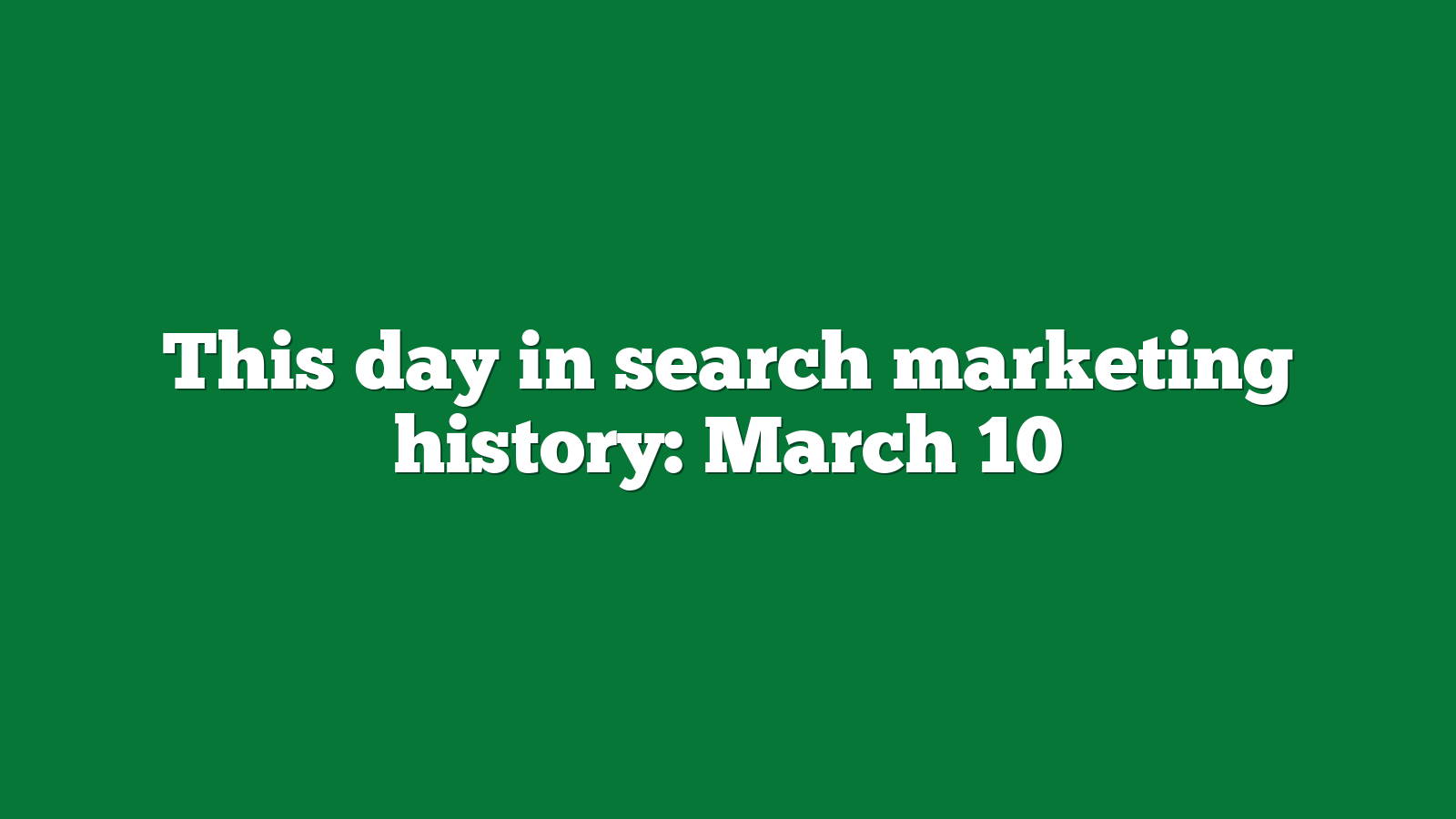 This day in search marketing history: March 10
Google and Bing "exception lists"
In 2011, Google and Bing revealed at SMX West that they have "exception lists" for websites that might get hit by some algorithm signals.
Neither search engine suggested that these lists were used to boost sites in their search results or exempt them from any overall algorithm changes.
However, some sites might be excluded from the impact of particular ranking signals on Google, according to its spam chief, Matt Cutts.
Google followed up with a longer statement that read, in part:
"Like other search engines (including Microsoft's Bing), we also use exception lists when specific algorithms inadvertently impact websites, and when we believe an exception list will significantly improve search quality. We don't keep a master list protecting certain sites from all changes to our algorithms."
Read all about it in Google & Bing Have Whitelists – "Exception Lists" – For Some Algorithm Signals and dig deeper in Transcript: Google & Bing On Whitelists & Exception Lists.
---
Also on this day
---
2022: This policy change took widespread ad suspensions from platforms across the industry into new territory by targeting businesses in Russia.
---
2022: It was only available to select merchants in the U.S.
---
2022: Billed as a "personal shopping concierge, powered by a taste-driven algorithm," the "Your Shop" feature was a recommendations engine designed to suggest products, brands and creators to users based on their activities and preferences.
---
2020: The video timeline feature was getting more visibility in mobile search.
---
2020: With ad spend expected to fall in many sectors, media buyers shared what they were seeing on the ground.
---
2020: The reviews site wanted to stop Google's "self-preferencing" in the local SERP.
---
2017: The latest images showing what people eat at the search engine companies, how they play, who they meet, where they speak, what toys they have and more.
---
2016: While most top websites had apps, only 30% of those Android apps and 19% of those iOS apps had deployed App Indexing.
---
2016: The desktop carousel test simulated mobile. A new ranking treatment for "top-rated" products was live on mobile and desktop.
---
2015: Despite many sites already supporting HTTPS, 80% of those URLs did not show in the Google search results because the webmaster was communicating to Google to display the HTTP version.
---
2015: Google's long-term CFO told the company he wanted to retire over the next six months and would help the company find a replacement.
---
2015: Spoiler alert: Wrong.
---
2015: Bing turned its predictive science smarts toward the unpredictable college basketball tournament.
---
2014: Google had been indexing deep links for Android apps, though not iOS.
---
2014: The annotations spotlighted strongly rated aspects of an advertiser's business such as customer service, a rewards program or shipping practices in search ads.
---
2013: Also, SEO isn't bull and the biggest challenges in search were the knowledge graph, speech recognition and natural language.
---
2013: "We focus on our users. Others should focus on building good products, too."
---
2011: Google announced that you could hide or block certain sites from showing up in search results.
---
2011: Latitude check-ins would bring offers from local businesses in Austin, Texas (for SXSW).
---
2011: Whether using Google or Bing, all 24 participants looked at the organic search results for their queries, but between 70% and 80% ignored the paid ads on the right side of the page.
---
2011: Spoiler alert: No.
---
2011: LinkedIn Today was totally algorithmically generated. Users could follow news publications/blogs or industries. 
---
2011: Foursquare's new specials management system would give business owners more control and new options for rewarding customers who checked in.
---
2011: Through a system of rewards and by encouraging social behavior, Whrrl enabled people to check-in, make a list of things they wanted to do locally and join affinity groups of people with similar interests.
---
2010: This was one of the most requested missing features on Google Maps.
---
2010: it allowed companies and developers to gain access and sell into Google's "2 million businesses and 25 million Google Apps users." 
---
2010: A short but well-done video on how much Google knows about us, possibly implying that Google owns its users.
---
2010: Google regained some share "lost" in January and Bing's gains continued, albeit at a somewhat slowing pace.
---
2010: Quarterly mobile data showed strong growth for Android handsets in the U.S. and an increase in mobile web usage.
---
2010: The new UK ad blitz by Microsoft was aimed at capturing market share from Google in that region.
---
2010: Collecta mobile included real-time news, photos, and status updates from more than 10 million content sources – from Twitter to Flickr and CNN and blogs.
---
2009: Yahoo held over 51% of search market share in Japan, whereas Google only held 38%.
---
2009: A secret search engine named Wolfram Alpha was being designed by Stephen Wolfram, a British mathematician.
---
2009: Search marketing spending would increase only 9% to $14.7 billion in 2009 from $13.5 billion in 2008, SEMPO said.
---
2008: Google's Tim Armstrong outlined a provocative and much larger vision for the company that would incorporate it more centrally into major ad agencies' media buying and planning processes.
---
2008: Sergey Brin ranked at number 32 with $18.7 billion, Larry Page at number 33 with $18.6 billion, and CEO Eric Schmidt was ranked 142 with $6.6 billion.
---
2008: News Corp wasn't throwing Yahoo a life preserver to fend off Microsoft; Mark Zuckerberg said maybe Facebook was "ahead of itself" in calling its ads so revolutionary; and more.
---
---
2007: The effort, conducted with a small group of advertisers, was aimed at testing the computer and network infrastructure needed for Google to broker and deliver commercials to cable systems more widely.
---
From Search Marketing Expo (SMX)
---
Past contributions from Search Engine Land's Subject Matter Experts (SMEs)
These columns are a snapshot in time and have not been updated since publishing, unless noted. Opinions expressed in these articles are those of the author and not necessarily Search Engine Land.
---
< March 9 | Search Marketing History | March 11 >
The post This day in search marketing history: March 10 appeared first on Search Engine Land.
from Search Engine Land https://searchengineland.com/search-marketing-history-march-10-394116
via free Seo Tools