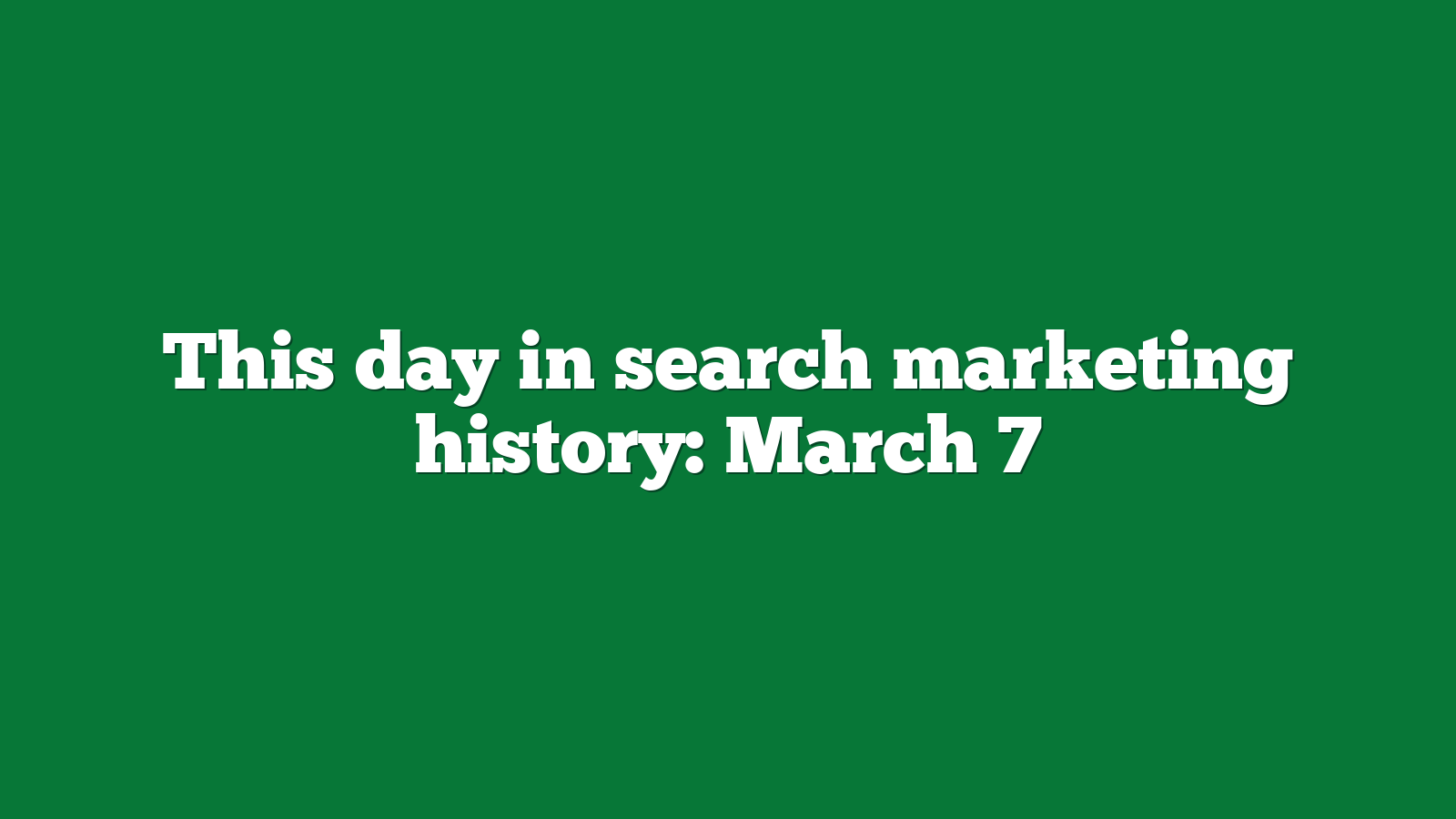 This day in search marketing history: March 7
Google adds landing page load time to Quality Score
In 2008, Google AdWords confirmed a new addition to Quality Score: landing page load time.
Google said they did this for two reasons:
First, users have the best experience when they don't have to wait a long time for landing pages to load. Interstitial pages, multiple redirects, excessively slow servers, and other things that can increase load times only keep users from getting what they want: information about your business. Second, users are more likely to abandon landing pages that load slowly, which can hurt your conversion rate.

– Inside AdWords, Landing page load time will soon be incorporated into Quality Score
And what did Google consider to be too slow? Google was typically vague, telling Search Engine Land:
"Our goal is to encourage advertisers with landing pages that are excessively slow to speed up their sites. It's not possible to provide an exact number of seconds above which we would consider a site to load 'slowly,' since we adjust for regional and country differences in average load times."
Read all about it in Load Time Confirmed As AdWords Quality Score & New Category Exclusion Feature.
---
Also on this day
---
2022: What is a broad core algorithm update? Learn the complete history of Google's core updates, what they are, and what's important for SEO.
---
2022: The new features included sections for background information, estimated casualties and photos of the conflict.
---
2022: Professional service ads could also be used to promote regional offices, branches or even national brands that provide relevant services.
---
2019: In dozens of emails and countless social media posts, SEOs expressed concerns over DA score changes and the impact on their Google rankings.
---
2018: The feature worked automatically with DoubleClick AMP ad tag and for ad networks using Fast Fetch.
---
2017: Baidu, Sogou and Yahoo Japan were adopting the mobile framework.
---
2017: Flickr said its new search option used advanced technology to surface similar photos without much work on the user's end.
---
2016: Google was experimenting with click-to-call on the organic side, which they had done with ads and local before.
---
2016: The new bulk IDFA/advertising ID upload feature helped developers try to re-engage users on iOS and Android devices.
---
2014: The API was available to agencies and third-party platforms to facilitate large-scale implementations.
---
2014: Google would begin to disapprove products with incorrect GTIN, MPN and brand identifiers and globally demote products with incorrect identifier_exists attribute
---
2014: The latest images showing what people eat at the search engine companies, how they play, who they meet, where they speak, what toys they have, and more.
---
2013: Webmasters who had used the SAPE link network reported that their sites took hard penalties within Google, resulting in a huge downgrade in ranking.
---
2013: Thousands of queries were compared over a year.
---
2013: The judge reportedly called the patent, which describes how map data and local search results can be combined, a "big idea."
---
2013: Though some of the News Feed changes could eventually have impacted Graph Search.
---
2012: If a searcher did choose to thank someone for the +1, they were prompted to thank directly on Google+.
---
2012: Location Extensions allowed local business advertisers to display their addresses and phone numbers within the ads on Bing and Yahoo.
---
2011: BeatThatQuote.com was a price comparison website for loans and financial products.
---
2011: The report also stated that mobile searches had a CTR that was 30% lower than desktop CTR.
---
2011: Having made a record 48 purchases in 2010, Google was "going to continue to be aggressive."
---
2011: Real-time traffic conditions and historical traffic patterns were factored into the routing.
---
2011: The new bar was larger, incorporating more of the Bing home page theme from that day.
---
2011: Rovio and Microsoft struck a deal to integrate Bing search into the game.
---
2008: Google sent out more invitations for advertisers to test out TV ads within the Google AdWords system.
---
2008: The ban came after StreetView photographs of Fort Sam Houston in San Antonio were found on Google Maps.
---
2008: "So it may be my last breath at Microsoft, but we're going to be there, working away, building share."
---
2008: In short, you could now legally bid on trademarked terms in Utah, assuming you complied with the search engine's trademark policy in your country.
---
2007: Social networking site Friendster selected Google to power search and ads on its site.
---
2007: Yahoo and Google were updating the number of links they account for each site.
---
2007: Improvements to desktop search included the addition of "preview search results."
---
2007: BMW in Germany started supporting integration with Google Maps.
---
2007: Because a video was found that insulted Mustafa Kemal Ataturk, the founder of modern Turkey.
---
2007: He found it "hypocritical to charge for something we need to do anyway" (i.e., crawl the web to find quality pages to present to the searcher).
---
2007: The case was filed in early January by "11 companies and seeks damages of 5.5 million yuan ($710,686)."
---
2007: It added a range of sharing and personalization features built on top of the Microsoft Virtual Earth platform.
---
From Search Marketing Expo (SMX)
---
Past contributions from Search Engine Land's Subject Matter Experts (SMEs)
These columns are a snapshot in time and have not been updated since publishing, unless noted. Opinions expressed in these articles are those of the author and not necessarily Search Engine Land.
---
< March 6 | Search Marketing History | March 8 >
The post This day in search marketing history: March 7 appeared first on Search Engine Land.
from Search Engine Land https://searchengineland.com/search-marketing-history-march-7-393891
via free Seo Tools