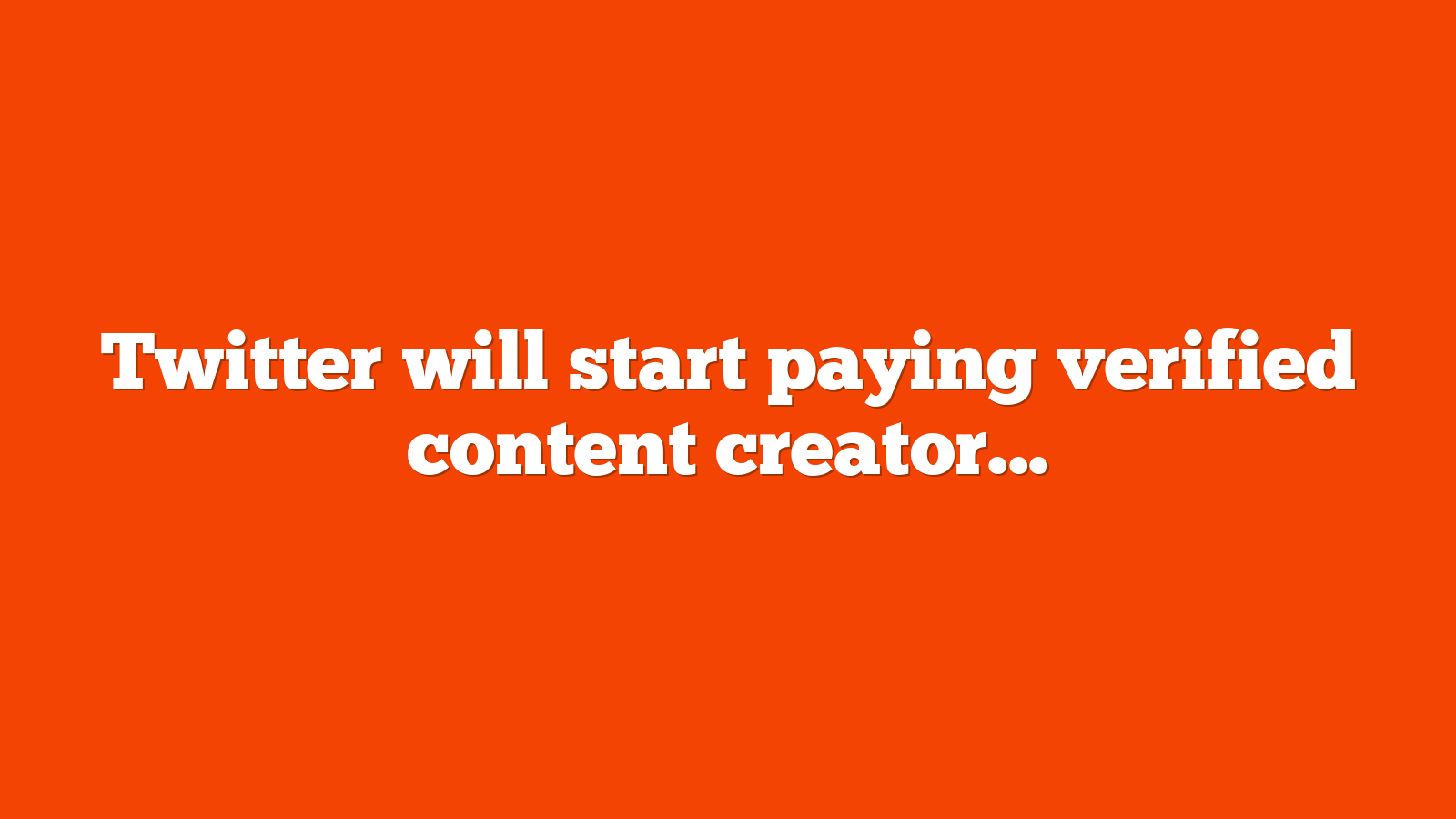 Twitter will start paying verified content creators in coming weeks says Elon Musk
Twitter is going to start paying its verified content creators for adverts served in their replies over the next few weeks. Elon Musk, who has owned the social networking site since October 2022, announced that the first block payment totals $5 million – however, he has set some conditions.
What's new: Under Musk's new rules, content creators will receive cash for ads in their replies, but only if they are verified. In addition, the billionaire added "only ads served to verified users count".
Why we care: This news means that advertisers will have another potential stream of revenue on Twitter.
Why now? Musk's announcement comes as advertising guru Linda Yaccarino prepares to join Twitter as its new CEO. It is hoped that her leadership will help restore trust in the platform after ad revenue plummeted following some of Musk's restructuring decisions – including laying off almost half of Twitter's 7,50-strong workforce.
Prompting concern around ad placement, ad spend took a huge hit and was down roughly 20% year on year, according to research from Sensor Tower and Insider Intelligence.
---
Get the daily newsletter search marketers rely on.
---
What has Twitter said? Musk wrote on Twitter:
"In a few weeks, X/Twitter will start paying creators for ads served in their replies. First block payment totals $5M. Note, the creator must be verified and only ads served to verified users count."
In March, Musk opened up about his high hopes for the future of Twitter's ad sales despite its recent challenges. Taking to Twitter, he revealed his target of increasing the platform's current 5 to 6 cents per hour of user attention to 15 or more cents. The billionaire explained he aims to achieve this through more relevant and timely ads.
Further details are expected to follow shortly.
Timeline:
October 2022 – Musk buys Twitter for approximately $44 billion after months of negotiations.
October 2022 – A number of Twitter's top bosses are reportedly laid off, including CEO Parag Agrawal, chief financial officer Ned Segal, chief legal officer Vijaya Gadde and general counsel Sam Edgett.
November 2022 – Musk begins the biggest lay-off of staff in Twitter's history by initiating talks to axe almost half of its staff around the globe.
November 2022 – Twitter turns it blue tick verification system into a paid for service at a cost of $8 per month. Public figures from Beyonce to Cristian Ronaldo lose their blue ticks over night, resulting in a surge of fake profiles impersonating public figures.
February 2023 – Post frequency dives by 20% on Twitter.
April 2023 – Twitter is dropped from Microsoft's Ad platform.
April 2023 – Musk enforces mandatory verification on advertisers.
May 2023 – Linda Yaccarino is announced as the new CEO of Twitter.
June 2023 – Twitter's US ad revenue drop 59%.
June 2023 – Musk announced Twitter will begin paying verified content creators for ads served in their replies.
The post Twitter will start paying verified content creators in coming weeks, says Elon Musk appeared first on Search Engine Land.
from Search Engine Land https://searchengineland.com/twitter-pay-verified-content-creators-elon-musk-428170
via free Seo Tools