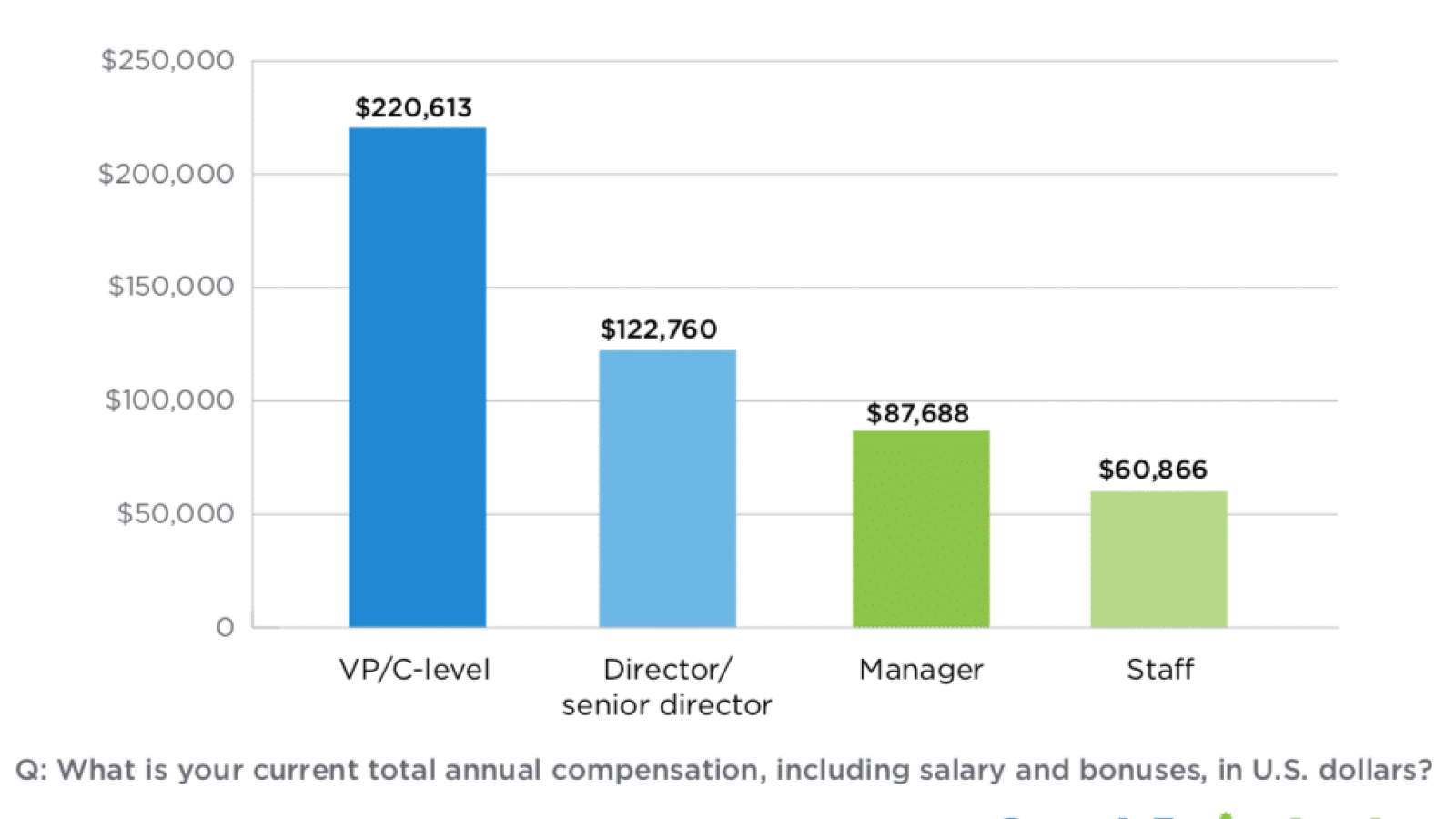 2023 Salary & Career guide: How much search marketers make
Search marketers earn anywhere from $60,000 to $220,000 in annual compensation (salary and bonuses), on average, according to a new Search Engine Land survey.
Why we care. Search marketing is an attractive and satisfying career choice that can, over time, become increasingly lucrative. The keys to earning that higher compensation? Seniority, role and the size of the company or organization you work for.
By the numbers. VP and C-level positions earn the most – $220,613 in annual compensation, on average. Directors and senior directors earn $122,760; managers $87,688; and staff $60,866, all on average.
Those who hold the position of VP or higher make 3.62 times more than their staff, according to our survey.
Salaries vary greatly within roles. Averages sometimes can be misleading. So let's break that down a bit further to get a more nuanced view:
VP and C-level positions range from $50,000 to $400,000.
Director and senior director-level salaries range from $25,000 to $300,000.
Manager-level salaries range from $15,000 to $300,000.
Why the variance? Location is one big reason (see our Methodology section below). But there are more factors, such as the size of the organization and years of experience.
Case in point. Respondents who work at the largest companies get greater compensation. Search marketers at organizations with more than 10,000 employees earned $169,988, on average.
41% of the search marketers in our survey work at companies with more than 500 employees.
Compensation increases with seniority. Years of experience typically translate into higher compensation.
The first jump in salary comes around year six or seven (~$66,000 to ~$88,000), and the second salary jump comes when you reach year 10 (~$88,000 to ~$120,000), our data showed:
Graduate degrees don't factor in compensation. Of the 276 respondents who answered this question, 66% said they did not have a graduate degree and earned $95,039, on average.
Meanwhile, 16% reported having a graduate degree in business, but their average salary was only slightly higher at $98,988, on average.
Context: In the U.S., 14.4% of those age 25 and older hold an advanced degree (master's, professional or doctoral), according to U.S. Census Bureau data.
Meanwhile, more than 90% of search marketers have an undergraduate degree.
64% work at brands; 32% at agencies. Nearly two-thirds of respondents worked at brands.
Almost half (47%) of those working at brands primarily reported into marketing, while 15% reported to digital or ecommerce.
The majority (72%) of respondents said their role was digital marketing.
Of the 11% who answered "other," more than half had "SEO" in their title.
Methodology. We surveyed 510 marketers between Jan. 11 to 23; 413 of those provided salary information. Invitations to take the survey were amplified on and by Search Engine Land.
Nearly 67% of the 510 respondents live in North America; 20% live in Western Europe. The conclusions in this report are limited to responses from those individuals only. Others were excluded due to the limited number.
The survey had more than 20 questions related to career roles, salary, technology, job satisfaction and challenges/frustrations. Respondents were given the opportunity to reveal their age and gender.
More to come. Over the next two days, we'll look at the differences in salaries and careers of women and men, and also dig deeper into roles and responsibilities.
The post 2023 Salary & Career guide: How much search marketers make appeared first on Search Engine Land.
from Search Engine Land https://searchengineland.com/search-marketer-salary-career-guide-2023-394881
via free Seo Tools