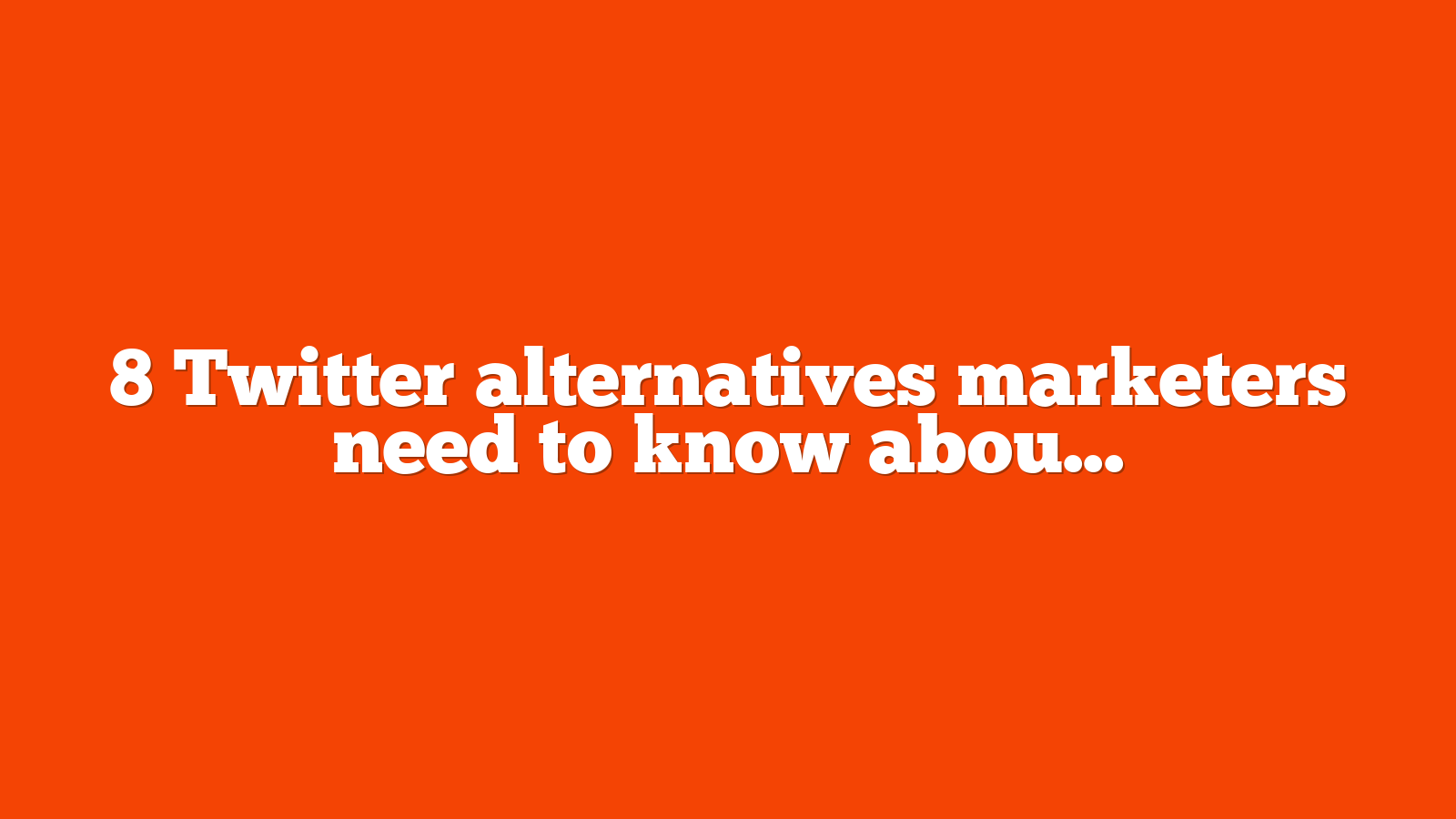 8 Twitter alternatives marketers need to know about
Marketers have been growing increasingly concerned about advertising on Twitter.
So much so, Twitter's US ad revenue alone is down 59% year-on-year with huge brands such as Coca-Cola, Jeep and Unilever all pulling their campaigns, according to an internal presentation.
But where are marketers going if Twitter is no longer their go-to option for advertising? Below, we take a look at eight Twitter alternatives that advertisers should be paying close attention to…
1. Threads
Active users: 30 million
Meta's Twitter alternative Threads launched yesterday, with 5 million people signing up in the first few hours. Companies to sign up within minutes of its launch include Netflix, HBO and Billboard.
Meta CEO Mark Zuckerberg said he believes Threads will be bigger than Twitter but it will take time.
"I think there should be a public conversations app with 1 billion+ people on it," he said. "Twitter has had the opportunity to do this but hasn't nailed it. Hopefully we will."
Threads is available in 100 countries, including the U.S., UK, Australia and Canada, via the Apple and Google app stores. However, due to regulatory issues, it is not yet available in the EU.
Marketers can't currently place ads on Threads, but it is expected Meta will be announcing ad space in the not-too-distant future. It's worth noting that Meta's other brands, such as Instagram, launched without ads. Now, advertising is one of Instagram's biggest sources of revenue.
2. Bluesky
Active users: 200,000
Bluesky is an invite-only decentralized social networking platform that already has a string of high-profile users such as model Chrissy Teigen and US politician Alexandria Ocasio-Cortez.
However, the app, which started off as a Twitter project but is now an independent company, is still in its early testing period so has not yet been fully rolled out. Currently, people can join a waiting list to sign up when the app fully launches, but a date for this is yet to be confirmed.
Bluesky has said that it doesn't want to make advertising its dominant business model and so had "been exploring other avenues of monetization". However, as the app is so new, company bosses could still take any direction and so advertisers are paying close attention.
3. Substack Notes
Active users: 35 million
Substack Notes is a platform for independent writers to publish short-form posts and share ideas. Both writers and readers can use the site to share posts, links, images, quotes and more with their Substack network, and also join in conversations with other writers and fellow readers.
The app was rolled out to all writers and readers in April 2023. Its creators have described the site as a new platform designed to "inspire, enlighten, and entertain readers based on the writers you're already reading."
The company's founder Chris Best has made clear his reluctance to rely on advertising for revenue since the beginning. However, active users are openly using subscriptions and sponsorships to earn more money from the website.
4. Post
Active users: 430,000
Post is a platform that allows its users to access news from premium publishers without subscriptions or adverts. The app which is still in beta, is "designed to give the voice back to the sidelined majority; there are enough platforms for extremists, and we cannot relinquish the town square to them," according to its founder Noam Bardin, former CEO of Waze.
Unfortunately, Post's zero-ads policy isn't exactly the best news for marketers. Although advertisers will still play a role on the site, what they are able to post will be restricted. For example, instead of posting promotional campaigns, marketers will be limited to sharing relevant, informative and engaging content.
The app operates using a points-based currency, which can be exhanged to read full articles. Users can also tip people or publications. To get more points, users have to cough up real money.
5. Mastodon
Active users: 10 million
Rolled out in 2016, Mastodon is a popular Twitter alternative and received a surge in new sign-ups after Elon Musk took-over its rival. It operates in a similar fashion to Twitter in the sense that users can post opinions, join conversations in their news feeds, upload pictures and more. However, the key difference is that Matsodon has a decentralized network and is nonprofit.
Unfortunately for marketers, Mastodon has stated that it will never serve ads or use an algorithm to promote some profiles over others. But other options are available that may interest advertisers such as affiliate marketing, sponsorships and UGC campaigns.
6. Spill
Active users: 20,000
Spill is a new app, created by former Twitter employees, that aims to create a safe space for marginalized communities – especially for people of color and the LGBTQ+ community. The platform, which launched in January, is invite-only and is still a beta, currently only available on Apple's OS.
The app already has a string of famous names on its books, including Lizzo, Amber Riley and Questlove, as well as its first bunch of advertisers confirmed. The platform is yet to reveal more information but promises "we're only just getting started".
More details are expected to be announced over the next few months.
7. Hive
Active users: 1 million
Hive is a mobile-only app which was praised as an excellent alternative to Twitter – especially when Musk came into play last year. However, although development of the platform is ongoing, the hype was short-lived and the app didn't take off in the same way people had expected.
The platform functions in a similar way to Twitter but is different in that it claims to be free of algorithms. This means news feeds are displayed in chronological order as opposed to the order AI thinks you'll prefer. The platform also rolled out a verification feature in June – however, unlike Twitter, Hive does not charge for this.
Hive doesn't currently host adverts or business accounts, however, brands can still use it to promote their products and services by posting links that connect back to their brand's site.
8. Spoutible
Active users: 240,000
Founded by Christopher Bouzy and Bot Sentinel, Spoutible is the only Black-owned social networking site. Launched in January, the app was created to provide a "safe, inclusive, and enjoyable online space" that has a "zero-tolerance policy for targeted harassment, hate speech, disinformation, and platform manipulation."
Both solicited adverts and unsolicited content are prohibited on Spoutible. This means marketers cannot send direct messages to users about their products or services and they cannot host giveaways. Not adhering to Spoutible's rules can result in your account being suspended. And if an account is suspended, there will not be an opportunity to get it reinstated in the future.
Why we care. Advertisers appear to be taking a step back from Twitter following Musk's takeover last year. With that in mind, they'll be looking for new platforms to advertise their campaigns on without sacrificing reach or quality. That may prove to be a tricky task as Twitter boasts 450 million active users globally.
Why advertisers are leaving Twitter. Marketers have been fleeing the social networking platform since Elon Musk acquired the platform for $44 billion in October and privatized the company. The billionaire put relationships with advertisers under strain by terminating key sales executives, promoting a conspiracy theory on the platform and reinstating previously banned Twitter users, such as Jordan Peterson, Andrew Tate and Rep. Marjorie Taylor Greene.
Advertisers have also been discouraged from using the platform following a sharp rise in hate speech and explicit content, coupled with an increase in ads for marijuana products and online gambling.
The post 8 Twitter alternatives marketers need to know about appeared first on Search Engine Land.
from Search Engine Land https://searchengineland.com/twitter-alternatives-marketers-need-know-429087
via free Seo Tools