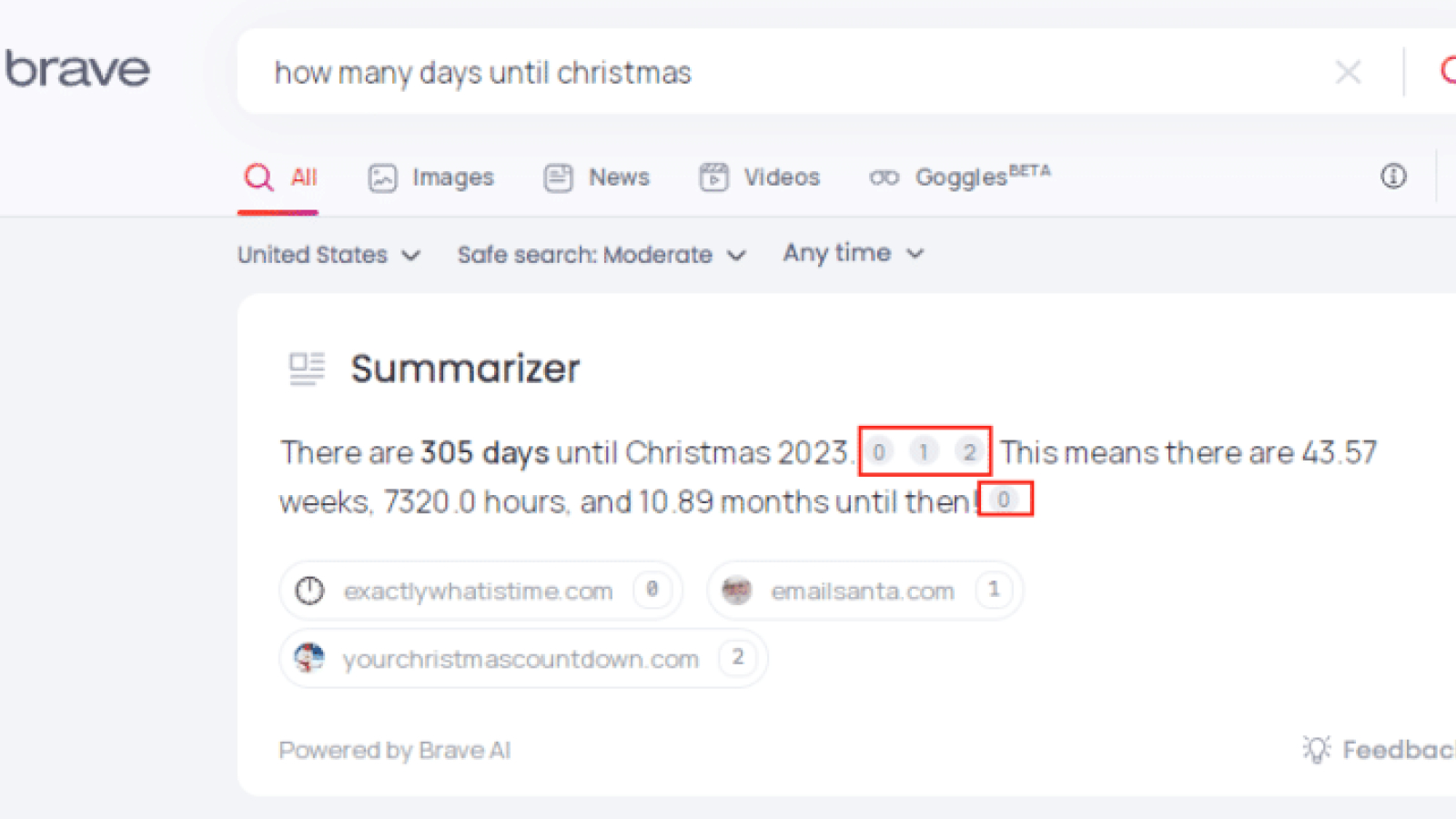 Brave Search adds AI Summarizer feature
Brave Search has introduced Summarizer, a new AI-powered feature that looks similar to Google's featured snippets and Perspectives SERP features. It's also like what BingGPT is doing, generating answers to questions in near real-time.
Summarizer provides concise answers (generally two or three sentences), with one or multiple citations, to user search queries.
Brave's Summarizer answers are based on search results found on the web. This is a key point Brave called out in their announcement:
"Unlike a purely generative AI model, which is prone to spout unsubstantiated assertions, we trained our large language models (LLMs) to process multiple sources of information present on the Web. This produces a more concise, accurate answer, expressed in coherent language.
What it looks like. Here's an example of a search for [how many days until Christmas]:
Brave's Summarizer tells me:
"There are 305 days until Christmas 2023. This means there are 43.57 weeks, 7320.0 hours, and 10.89 months until then!"
This answer also includes three original sources (which I've annotated in red). Those numbered citations aren't clickable. Hovering over them will tell you the website this information came from. Searchers will have to click on the websites below the summaries.
Interestingly, Brave doesn't simply pull the information from the top 3 organic search results. Citation 0 was in 10th position; Citation 1 was 4th position; and Citation 2 was the top organic result.
Summaries are shown for 17% of queries. Brave said that using web results helps Summarizer provide real-time, up-to-date information to searchers. But Brave also noted that summaries are only being generated for about 17% of queries – though Brave plans to grow that number "in the near future."
Brave's result snippets also get summaries. Brave Search will also be highlighting (i.e., bolding) answers as opposed to bolding keywords on searches. Brave said:
"…our AI models are also able to replace the already query-dependent snippets (result descriptions) with a summarized version of those snippets, highlighting the answer when possible. This can be viewed as a summary of a single source (such as a press article), as opposed to the main summary where multiple sources are considered and aggregated to create a more comprehensive answer. The summary at the top of the results page and these special descriptions co-occur, so users will see the overarching summary as well as snippets with highlighted answers."
Here's a before and after on a query for [what happened in east Palestine ohio]:
So instead of just bolding keywords from the search query, Brave is trying to actually provide full answers in result snippets. And as Brave notes, queries can trigger both these summarized snippets, as well as the Summarizer.
Why we care. Although privacy-focused search engine Brave trails far behind Google and Microsoft Bing, it may be worth your time to explore Brave's Summarizer, to test examples of how it works on various queries. While this particular feature won't change any of your search strategies, as Google and Bing evolve their AI chat features, Brave may provide some inspiration to the larger search engines.
Available now. Brave Summarizer is available today for all users on desktop and mobile. Users can opt out under Search settings.
Now at 22 million queries per day. As of last April, Brave said it passed 12 million queries per day. Now they are seeing 22 million queries per day.
While that's solid growth, for comparison, we know DuckDuckGo dropped below 100 million queries per day in April 2022 and was unable to get back above that mark again before they stopped publicly sharing their traffic data. And for an even bigger comparison, an estimated 8.5 billion searches are conducted on Google every day. So that means Google sees more queries in a day than Brave will likely see in a year.
The post Brave Search adds AI Summarizer feature appeared first on Search Engine Land.
from Search Engine Land https://searchengineland.com/brave-search-summarizer-ai-feature-393859
via free Seo Tools