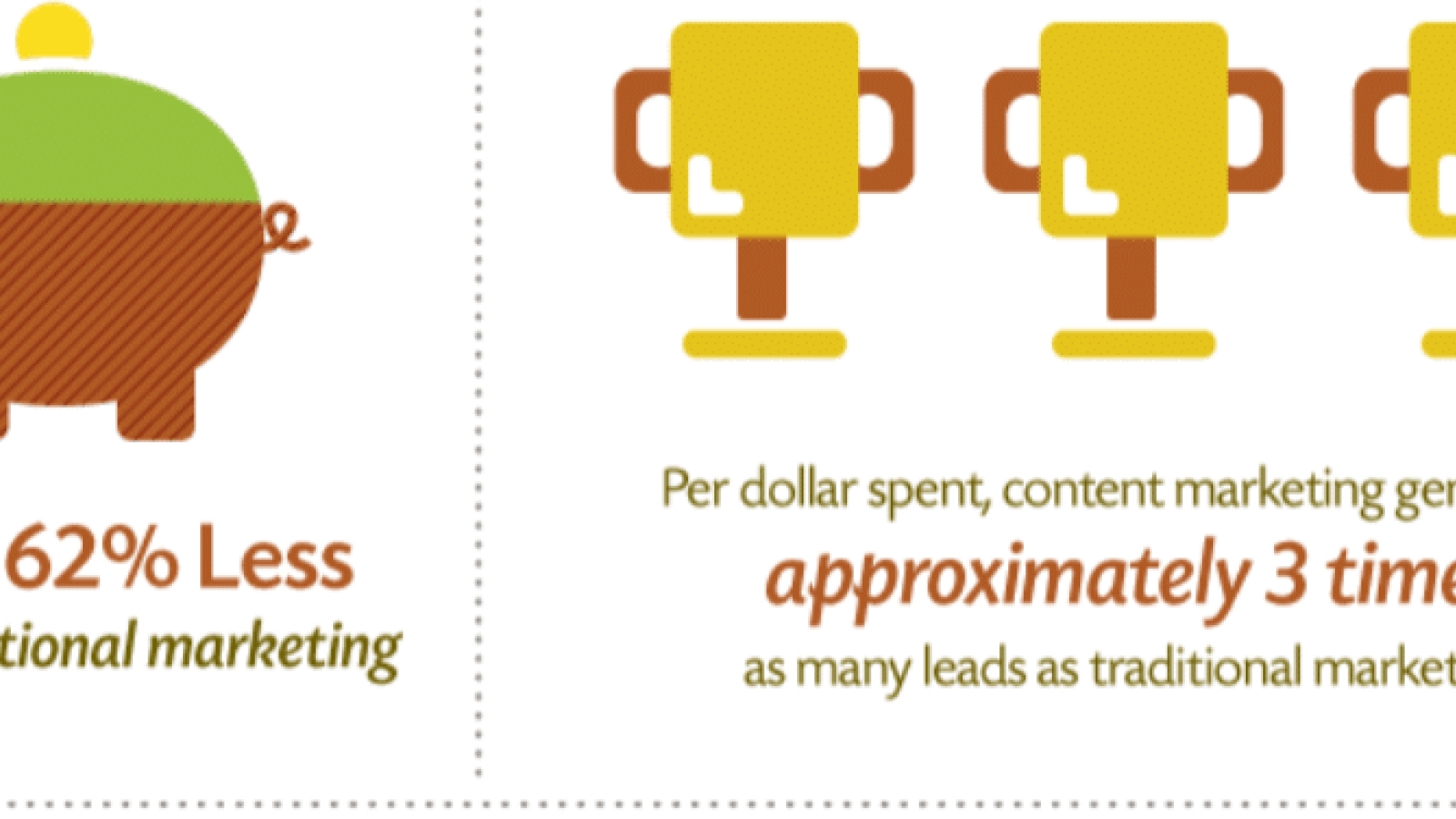 Insourcing vs. outsourcing: The pros and cons for content creation
Creating consistently high-quality content on the regular is a tall order for any business. So, how do the most successful get it done?
First, they have a content strategy in place.
After that, it all boils down to whether they insource or outsource that strategy, including planning, ideating, writing/creating, publishing, and promoting.
In other words, who is doing all the work? Who is in the trenches creating that brand's consistent content presence on their blog, social media or video channels?
As you'll soon see, neither insourcing nor outsourcing is inherently better. There are pros and cons associated with each option. Let's look at the definitions and compare them so you can choose the right route for your brand.
Insourcing vs. outsourcing content: What's the difference?
Insourcing means you use people and resources within your company to create content.
Outsourcing means using people and resources outside your company (i.e., hiring an agency or freelancers) to create content.
Insourcing (Using in-house talent and resources)
When you insource content creation, your business must have a content strategy that guides a team of in-house people who create all your brand content.
These people might belong to a dedicated content marketing team with defined roles like content manager, content writer, social media manager, editor, etc.
Or, if your resources are limited, you might have everyone inside the business contributing to content creation in some way in addition to their other roles.
Pros of insourcing content creation
Build stronger, smarter teams
Creating content makes your team(s) smarter and better at content, plus a range of skills like researching, writing/communicating, strategizing, analyzing and tracking data, and more.
The people who create the brand's content get intimately familiar with the brand itself and all of its parts that matter:
The audience and value proposition.
Their overarching differentiator.
Their voice and style.
The deeper benefits of their products/services.
Save money long-term
The initial investment in insourced, in-house content marketing may be larger, but the savings you'll enjoy in the long run will make up for it.
Generally, the initial investment would involve skill-building (courses, training) for your team members, tech and tools like SEO and keyword research software, and maybe even resources for hiring another full-time team member (such as a content manager).
How will you save money over time?
Once the skills, expertise, and strategy are in place, your team should be able to produce amazing content that earns real results at triple the rate of traditional marketing while costing 62% less.
You won't have to funnel more money into content marketing to scale your efforts. You won't have to waste time searching for competent freelancers to hire or rely on an agency that produces generic content.
That means, in at least 6-12 months, your investment should start paying for itself.
Enjoy complete control over your content
If you hire an agency, the amount of content they create for you depends on a contract and an agreed-upon number of content pieces produced per month or week.
While this is great for many reasons, it's not so great for flexibility. That's why insourcing earns the advantage here. Your insourced team can pivot with content much more quickly because they won't be bound by any contract that says X number of blog posts must be produced monthly.
For example, maybe one month, you find it's necessary to scale back blog posts so you can focus on creating new lead magnets.
Maybe you find a great keyword but need to write an epic, 3,500-word article on it to rank, which would replace two or three shorter posts.
Or maybe you find it would be best to update and republish old content for a month or two.
You couldn't quickly pivot and do any of that with an agency. But your in-house team could.
---
Get the daily newsletter search marketers rely on.
---
Cons of insourcing content creation
You need a solid content strategy in place
To insource content marketing, you need to know what you're doing. You need someone guiding the ship who can steer it toward success. And that's impossible without a content strategy in place.
Building a content strategy is no mean feat, either. You can do it, but you'll need to invest time and money to learn what goes into it and what should come out.
Attempting to insource content without skills, knowledge, or a strategy is a disaster in waiting.
Everyone who touches the content needs a high level of skill
Speaking of skills and knowledge, content marketing, including content creation/production, is a full-time job.
The sheer expertise you need on your side pushes many businesses to default to outsourcing.
You need, at a minimum:
Effective writers/communicators/creators who can connect with your audience through words or visuals, share expertise, and clearly demonstrate the business value and benefits for customers. (Writing is the top outsourced activity for marketing professionals, which means having this skill inside your business is both a differentiator and an advantage.)
A smart content manager who can plan, ideate, and implement a content strategy, manage a content schedule, track results, and hit goals.
A skilled strategist who can help build the brand's SEO and online presence.
To be effective, there's a ton of skill and experience needed in each of these roles – and some businesses can't justify the up-front investment of either hiring in-house experts or getting training for their teams.
The initial investment can be spendy
Let's say you run a small business with a team of five people. You're considering insourcing content marketing, but your team lacks experience and knowledge. To get to a place where you can build, implement, and execute a content strategy, you'll need a large up-front investment in things like:
Courses and/or training on content marketing, strategy, and management.
Courses and/or training on content writing.
Courses and/or training on SEO.
Tools to implement and execute content marketing, like SEO tools, content management software, a content calendar, and more.
Potentially, the resources to hire a full-time content writer or content manager.
It can be a lot at once, so many small businesses understandably default to hiring outside expertise to help them implement content marketing.
Let's look at outsourcing in-depth to see the differences.
Outsourcing (Using external talent and resources, like an agency)
When you outsource content creation, that means you hire outside talent and resources to implement and execute your content strategy. That includes ideating and planning content, writing/creating content, and publishing/distributing content.
One of the most common ways to outsource content is to hire a full-service agency that completely takes over your content marketing from strategy-building to promoting finished pieces.
Additionally, you can hire freelancers to take on specific projects, short-term roles, or one-off content pieces. For instance, you might hire a freelance content writer to create three months' worth of content for your blog.
So, what are the pros and cons associated with outsourcing?
Pros of outsourcing content creation
Choose the solution that fits your needs
No matter your sophistication with content marketing, there's an outsourcing option for your needs.
Need the entire content marketing process handled? Hire a reputable agency.
Need just content creation taken care of? Hire a freelancer or an agency, or sign up with a writing platform, depending on your budget.
Most companies (47.06%) hire reputable freelance writers when they outsource, according to a Semrush survey.
If you don't have much time to vet and hire talent, you can also get on a freelance platform where thousands of writers, editors, strategists, videographers, graphic designers, and more converge to look for work and bid on jobs.
Relatively low start-up costs and quick turnaround
The costs to start outsourcing right away are pretty low. Technically, you could find a freelancer with decent skills on LinkedIn, Indeed, or Upwork tomorrow, agree on a flat rate and get your completed content piece within a week.
Easily scale when you're ready
It's also relatively easy to scale outsourcing – you just need to pay more money to hire more freelancers, or pay an agency for an ongoing contract.
It should also be pretty easy to find freelancers, as the job market is glutted with them. (By 2027, the majority of the workforce in the U.S. will be freelance!)
Cons of outsourcing content creation
Inconsistency or unreliability
You know what I'm about to say if you've ever hired a freelancer and had a bad experience.
Anyone can call themselves a freelancer and present a fluffed-up resume to impress. That doesn't mean they can deliver. You'll often end up with bad content, missed deadlines, or someone who ghosts you after you hire them.
Roughly half of companies outsource content writing, but one in ten stopped outsourcing because the results didn't measure up.
Your outsourced team will never have the deepest knowledge of your brand
An outsourced team is constantly in flux, often without your say. If you hire an agency, you may never even speak with the people writing your content, and various people may shuffle in and out of your projects without your knowledge.
That means you'll never have a creator working with you who knows your brand inside and out, has learned from you and your team, and knows your audience, goals, brand voice, and other factors intimately.
This type of expert has a deep advantage over a freelancer who merely touches your content briefly and then moves on. The long-term hire will produce 10x better content just because they have the chance to learn and grow with your business.
Many writers become subject matter experts over time – about the brand they write for and the industry the brand represents – simply because researching and writing builds their cache of knowledge so effectively. That means the longer a writer works for you, the better they become for your business.
Outsourced creators have little to no motivation to stay loyal to you
When you rely on outside help to create content, especially unvetted freelancers, it's ultimately a gamble.
Most likely, that freelancer has multiple clients and projects going on at once. They may be freelancing on the side to supplement their full-time job. It's in their job description to come and go.
That means, when you find a freelancer who's a great fit, that's no guarantee they'll be available to create content for your brand in the future. They have zero motivation to show loyalty to you, unlike the writer or creator you hire (or train) to dedicate themselves to your business and team.
Should you insource or outsource content creation?
Now that you know the difference between insourcing vs. outsourcing content creation, which should you choose?
To sum up, insourcing is better if:
You have the resources to make an up-front investment in your content team.
You have buy-in from everyone in your organization.
Your team already has content marketing knowledge, or you're prepared to invest in it.
You have a content strategy in place or have plans to build one.
And outsourcing is the better choice if:
You're a relatively new business and don't have the resources yet to invest in an in-house content team.
Your team has zero content marketing knowledge.
You understand how to hire and work with freelancers effectively.
It would be very difficult to convince every level of the organization to invest in insourcing content.
Lastly, if you dream of insourcing content but don't have the means quite yet, remember that you can always outsource content while you build the resources for insourcing.
Neither choice is inherently better, but one will be smarter for your business in specific moments of growth, and that can change – so choose wisely.
The post Insourcing vs. outsourcing: The pros and cons for content creation appeared first on Search Engine Land.
from Search Engine Land https://searchengineland.com/insourcing-vs-outsourcing-the-pros-and-cons-for-content-creation-394386
via free Seo Tools