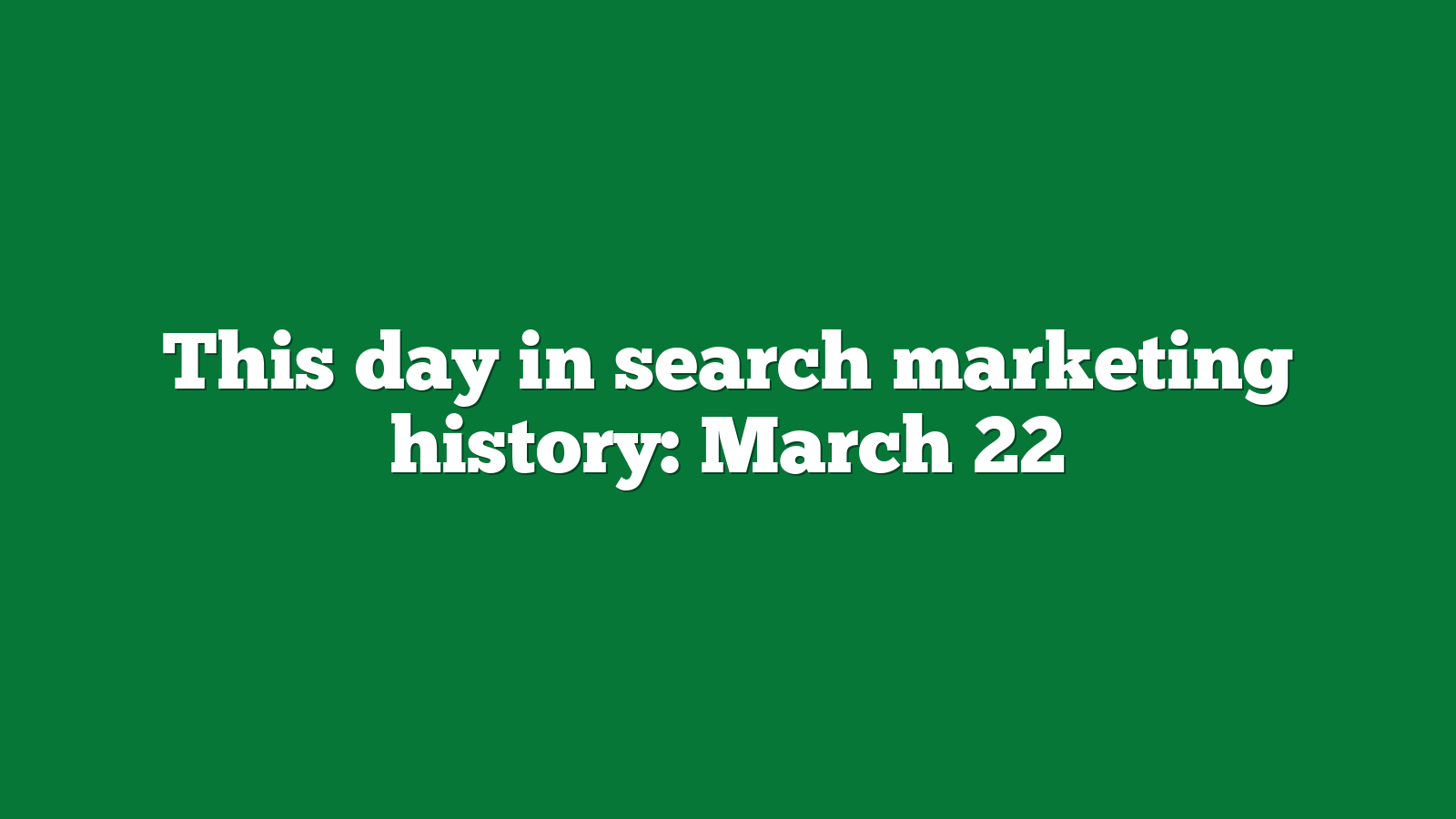 This day in search marketing history: March 22
2022: Google Search Console's rich results report could now show you more warnings for event structured data markup if the event is missing a location.
---
2022: Plus, you could now "see your conversions from free product listings by connecting your Merchant Center and Google Analytics property."
---
2022: The new reporting dashboard was aimed at streamlining workflows by making reports easier to customize and access.
---
2022: Product tagging would make it easy for people to discover and buy your products via Instagram Shopping.
---
2021: Study found that on desktop, 46.5% of searches were zero-click, compared to 77.2% on mobile devices.
---
2021: Other topics discussed: Google My Business, Google Shopping, passage ranking and more.
---
2019: Related: SEOs frustrated by Google's belated pagination announcement
---
2019: Personalized recommendations and universal checkout were front and center in the update.
---
2018: Advertisers could compare old ad variations in the new AdWords interface.
---
2017: The program opened in US and Brazil. The expansion was a sign Google no longer saw it as just an experiment.
---
2016: 2013 was the high-water mark for desktop search.
---
2013: Google announced three improvements to the Google Webmaster Tools verification system.
---
2013: Starting in April, AdWords ads with phone numbers in the text would be disapproved.
---
2013: Despite the ads, which were clever and cute, they didn't seem to help uptake on iOS. 
---
2013: Microsoft shared video of what was a confidential, employee-only demonstration of new voice search capabilities in its Bing app for Windows Phones.
---
2013: The latest images showing what people eat at the search engine companies, how they play, who they meet, where they speak, what toys they have, and more.
---
2012: The new interface was built to run display campaigns and enable advertisers to bid, target and optimize display campaigns in one place.
---
2011: A search for their name in Google once again returns them at the top result.
---
2011: How we went from the New York Times seeming to single out visitors from Google with a "5 free visit per day" policy to supposedly all search engines being limited in such a way.
---
2011: Google was moving to comply with an industry initiative from the Self-Regulatory Program for Online Behavioral Advertising.
---
2011: Use of Call Metrics helped one client increase response rates by almost 30% and conversions by nearly 20%.
---
2011: DoubleClick unveiling DoubleClick for Search version 3, only the third major update in the campaign management tool's five-year history.
---
2011: A report matched 6,000 Google employees and 16,000 Microsoft employees email addresses with grocery purchase behavior in partnership with a loyalty card aggregator to determine differences.
---
2011: Judge found that the proposed settlement terms were not "fair, adequate, and reasonable."
---
2011: "A whopping 40% of consumers across our survey suggested their next handset would be an Android phone vs only 17.9% going for iPhone."
---
2010: Rather than the expected "pullout" from China, Google hoped to continue operating within the country.
---
2010: Including private search option as well as search history options, and more.
---
2010: Newly launched company wanted to make search retargeting available to potentially any publisher, ad network or ad exchange that wanted to buy the query data.
---
2009: Search advertising – the biggest form of online advertising – was all about misdirection? Really? (A rant.)
---
2007: Google added "related phrases" to the Google definitions feature.
---
2007: 12 to 15 percent of Yahoo's search ad clicks were filtered out due to being fraud, invalid or for other reasons.
---
2007: Related: Yahoo Appoints New Click Quality Czar
---
2007: Microsoft appointed Satya Nadella to head the newly formed Search and Ad Platform Group.
---
2007: News Corp. and NBC Universal planned to announce an online video site stocked with TV shows and movies, plus clips that users can modify and share with friends.
---
From Search Marketing Expo (SMX)
---
Past contributions from Search Engine Land's Subject Matter Experts (SMEs)
These columns are a snapshot in time and have not been updated since publishing, unless noted. Opinions expressed in these articles are those of the author and not necessarily Search Engine Land.
---
< March 21 | Search Marketing History | March 23 >
The post This day in search marketing history: March 22 appeared first on Search Engine Land.
from Search Engine Land https://searchengineland.com/search-marketing-history-march-22-394552
via free Seo Tools